It's time for the SeedGROW project of 2011! Last year Mr. BrownThumb and Renee's Seeds sponsored the first SeedGROW project where Renee sent seeds to volunteer bloggers to document the seed growing experience. Nasturtiums were the seeds selected for last year and this year has a couple more garden favorites including lettuce, basil, and marigolds. In preparation for the SeedGROW project I planted a few of the seeds that Renee's seeds sent last week.
Basil is always a favorite herb in the garden and in my opinion you can never have enough of it! I repeat, you can never have enough of it! We ran out of our homemade pesto by mid-winter this past year and I'm hoping to grow and produce a larger batch of it for 2011. The basil we're trying for the SeedGROW project is called "Cameo" which is an Italian basil that is supposed to be well suited for pots. I pulled out a 12″ pot, filled with soil, and sprinkled seed on the top layer. Basil seeds are very small which usually means they need a little light to germinate so I didn't cover the seeds with any soil. A week later and we now have 10-12 basil seedlings sprouting. More than enough for one pot and I'll probably have to transplant into other pots as they grow larger.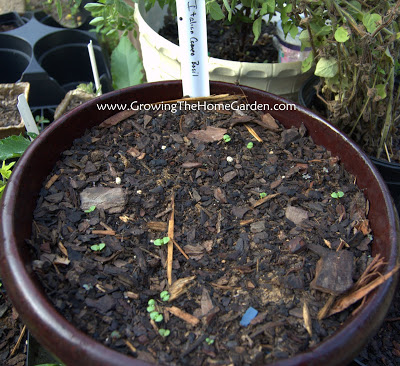 I also planted some marigolds called 'Summer Splash'. Marigolds make great companion plants to tomatoes and other vegetables as they reportedly prevent harmful nematodes from bothering the veggies. Marigolds and basil are two of the most well known plants for companion planting. The basil wards off a variety of insect pests and also goes very well with tomatoes.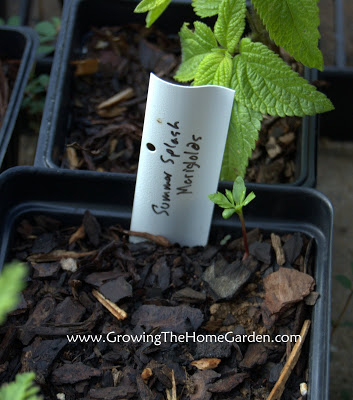 Renee's also sent a lettuce call 'Garden Babies' which I haven't planted just yet. I'll have to grow it in a pot and may have to keep it indoors to get it to produce since our temperatures have leaped into the 90's this week. That's the weather report and now back to you…
Please note that these seeds were sent to me free of charge in exchange for writing about my experiences with them. As always my growing experience with these seeds will 100% accurate filled with the good and the bad (if there is any). Keep following The Home Garden for more updates on the rest of my garden.