Have you ever stood back and tried to observe your garden at a different angle? Maybe from up high on a slope? Or down low from the ground looking up at the flowers and trees? Sometimes it's helpful to take a different perspective in order to plan out your garden better. Here's an example. I took this picture the other day from our side garden. The side garden is on the eastern side of our house and includes the corner shade garden as well as the border garden. Along the border I have a row of crape myrtles with a hedge of caryopteris planted underneath. This would be an awesome location for some hydrangeas but since more shade isn't present my caryopteris works just fine. It will begin blooming later this month and should continue to bloom through September. What else do you see in the photo?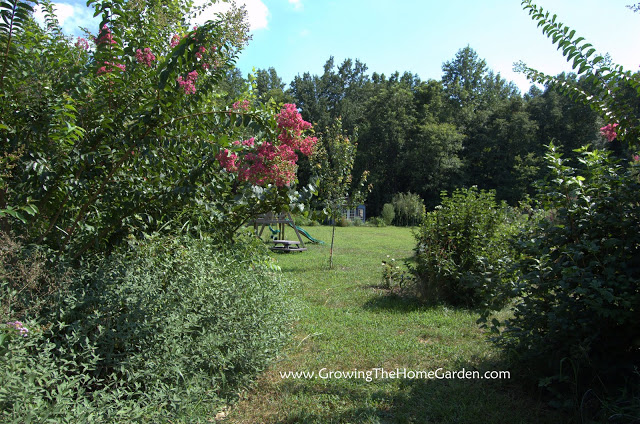 Way back off in the distance is my garden shed. If you click on the picture to enlarge it you will see it better. Immediately to the right is a viburnum and just past that to the right is a second viburnum. The first viburnum is Viburnum opolus 'Sterile' which blooms with snowball like flowers. The second is an arrowwood viburnum called 'Morton'. A young red maple tree is planted directly in the center of the picture. It's purpose is to divide the pathway into to sections around it.
What is missing in all this? A few things could be (none of which are critical or even necessary, just ideas):
Garden structures: trellises for climbing plants, a faux bridge, or even an arbor.
Evergreen plantings: nearly everything here is deciduous which doesn't leave much to look at in the winter months.
Perennial and annual beds: There isn't much here and a few perennials or annials would help to accent the shrubs.
What do you think? What would you add to this area?