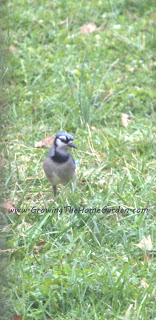 With many gardening activities slowing down and the temperatures dropping (although yesterday the temperature was actually near 70 degrees!) I spend much more time indoors. Fortunately I can still enjoy the great outdoors by watching the birds stop by to visit the bird feeders. Here are a few of the visitors who stopped by for breakfast yesterday and the day before!
The bluejay in the first picture doesn't stop by often. He tends to gather food from the ground rather than actually eating from the bird feeder.
We have cardinals and chickadees all the time. Chickadees are pretty neat birds. They don't seem to mind this gardener being out there with them and neither does their cousin the titmouse.
Here's a female cardinal posing for her picture.
This little woodpecker has been a frequent guest lately. Birds love easy to find grub!
Here he is again with a white capped sparrow. Just two birds hanging out at the bar. The deck bar that is.
One of my favorite birds is the Carolina wren. Here's one perched on the branches of a 'Shasta' doublefile viburnum.
And here he/she is again stopping by the bird buffet.
Here is a squirrel, a frequent visitor to many bird feeders. You can find squirrel proof bird feeders
that will close the opening when the squirrel climbs on the perch. The weight of the squirrel pulls a door closed on the feeding openings but birds aren't heavy enough to cause it to close.
If you haven't done all your Christmas shopping yet bird feeders make excellent gifts! Ours are getting worn out after several years of use, we could probably use a couple more (there's a not so subtle hint for anyone who is still looking for ideas for me!).