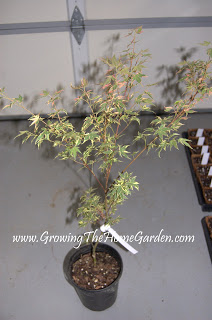 Last week I attended the Bloom N' Garden Expo in Williamson County, TN. It's a neat event held each year that offers garden speakers, display gardens, and (of course) plant vendors! I've been getting pickier in my plant selections over the past year or so because I want unique plants for my garden. I'm not trying to fill it up anymore, just trying to make it interesting! Also money is an issue. Despite advertising here on this blog (which doesn't earn much) and my fledgling nursery venture we're still really just a single income family. I don't want to spend money on plants I can raise from seed or through cuttings. Nor do I want to spend money on plants that I don't have a good place to plant them. So I've been getting more picky. Fortunately at these kinds of shows there are unique plants to find like the 'Beni Shichihenge' Japanese maple I bought!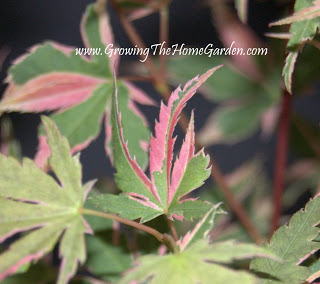 'Beni Shichihenge' came home with me because it has some really interesting variegated foliage. It begins with red on the leaf edges in the spring which eventually changes toward a creamy white variegation. This Japanses maple is a slow grower and at its top height will reach about 12 feet tall. For now it will grace itself in a pot either on our front porch or back deck. I don't have the perfect place planned for it yet and I'm hesitant to place it in a landscape that is also known as the Bambi buffet!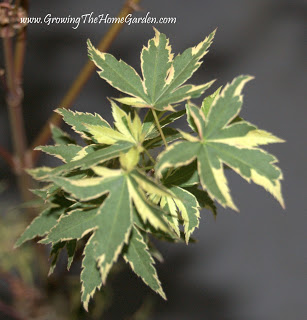 I bought 'Beni Shichihenge' from an extremely knowledgeable and very personable nursery owner out of a North Carolina nursery called Nichols Nursery. Tim Nichols told me that they have over 700 varieties of Japanese maples in their nursery which also has an online presence at Mr. Maple. I think you can guess how it got its name!
'Beni Shichihenge' was grafted onto another Japanese maple root stock. This is commonly done with Japanese maple cultivars since most of them don't enjoy growing on their own roots. Seed grown grafting stock gives these fancy cultivars a good chance of survival with a strong root system. One common root stock used for grafting Japanese maples is Acer palmatum 'atropurpureum' which is a red leaved Japanese maple.