In the very back of our property we have a shady area. It's about the only shady area that has occured naturally in our landscape. A mixture of walnut, sassafras, hackberry, and maple trees create a shade area that until recently was completely unusable! It was a problem area in our landscape which I thought would make a great subject for my next Lowe's Creative Ideas project. Why is this area a problem? First of all it's an area I would like to utilize for growing more plants (mostly heucheras and hostas). But also because it has housed a couple invasive plants that really need removed from our property: Japanese honeysuckle and poison ivy!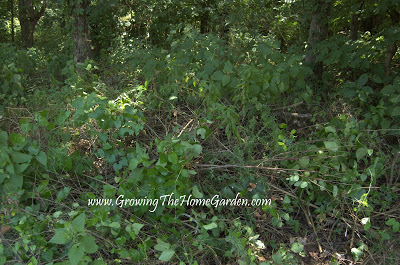 Brushy area in the shade in need of clearing.
I'm sure you know why poison ivy needs removed. Fortunately I am not allergic to it however that doesn't mean my children or guests will be too. Poison ivy contains a very potent chemical called urushoil that caused skin reactions. Japanese honeysuckle may not seem like such a bad thing at first but when it runs rampant it completely stops anything growing underneath it from growing. It grows extremely fast and is very hard to keep up in check.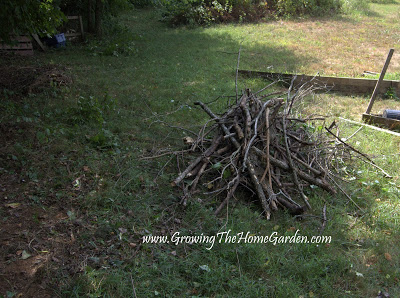 Pick-up sticks!
The back area also was a dumping ground for this gardener who accumulated sticks and branches from pruning trees and shrubs and set them in piles. The sticks have decomposed a little but will be put in a wood pile in another location for use in the backyard fire-pit we have. (Which I've only used 2-3 times to burn dead tomato plants!) The smaller branches, sticks, and leaves that came with them were all placed in an empty compost bin to continue the decomposition process. I'll add green grass clippings soon to help heat it all up and speed the composting process.
I've used large cardboard boxes to tamp down weeds in some areas in order to reach further into the brush areas for cleanup. The blue tarp in the back is covering some leftover wood from various projects like building the blue shed. I hope to use some of those pieces of lumber to make a small storage place for my garden carts.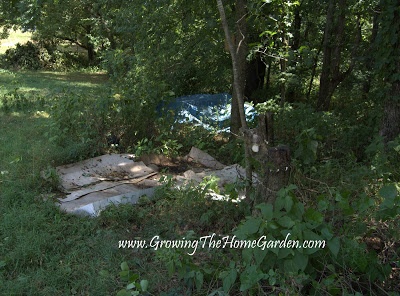 Step one of this project was to clear the area. Here's what we have now after an afternoon of work this weekend!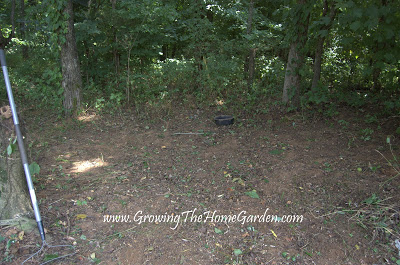 While working I discovered an old dog dish and a very large collar which
belonged to the people who lived here before us. Actually it probably
belonged to the rottweiler that lived here – people don't usually wear
collars…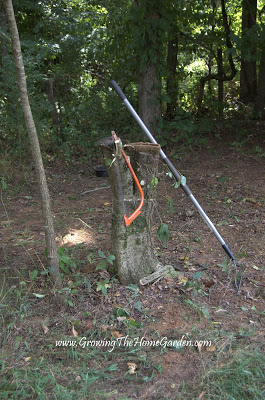 And the tools I used in my efforts: a bow saw and a garden rake! I consider both of these tools as essential garden tools for any homeowner. The bow saw is handy for trimming thick branches from trees quickly without the need for power equipment. I've used my rake for everything from spreading gravel to mulch, to compost, to weeds and leaves.
Step two will be to cover it in some way that will prevent weeds and invasives from reclaiming it. Then step 3 will be replanting it with plants I like! Do you have any suggestions or ideas on how to creatively plant this area? Raised beds?