Recently I put together my newest raised bed. I was inspired by some pictures I've seen lately where metal roofing materials were used for the sides. It was a very cool look that I wanted to see if I could replicate for my garden. I went to the store and gathered 9 2×4's, 3 steel roofing panels, and a box of deck screws. The total material cost for this raised bed is around $100 but you could greatly diminish that if you could find old metal roofing from a barn or a shed. The metal roofing panels were $15 each which adds up to almost half the project.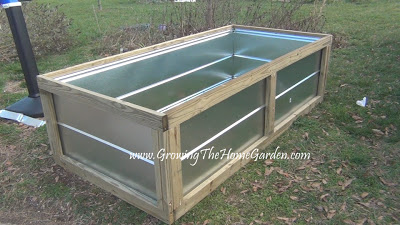 I built the side frames for the raised beds first. The 8′ sides used full length 2x4s with 3 21 1/4 inch vertical pieces as supports on the sides and the middle. The 4′ sides only used 2 supports per side which made for a total of 10 vertical support pieces. I cut one roofing panel into two 45″ pieces and used the full length of the other two panels. The sides are set at 48″ but I needed a gap on either end of the 48″ sides for the wood corners to contact each other for a smooth connection.
The construction of this bed is pretty simple but it does take more time to build than a typical wooden raised bed where you simply screw the corners of the wood together. The metal sided raised bed is very tall at around 28 inches but is a good height for anyone who may have health issues that prevent them from bending over to do garden work. At this height you can do all the maintenance from a standing position.
The big challenge will be filling the bed. I'll begin with a layer of straw bales in the bottom and layer with compost, newspapers, leaves, grass clippings, soil, and any other organic material I can find!
Here's a video on the construction of this metal raised bed. Enjoy!