I've been spending a lot of time dreaming about what is to come for our family, our new house, and the gardens. It's easy to come up with ideas but always much more challenging to implement them. I've designed a potential house plan and I know how we would site it on the property. There is still a lot of planning that needs done before we can actually start building. I'm thankful for the opportunity to dream about what we could do there and each time I visit the land I feel a sense of peace, like this is exactly where we are supposed to be.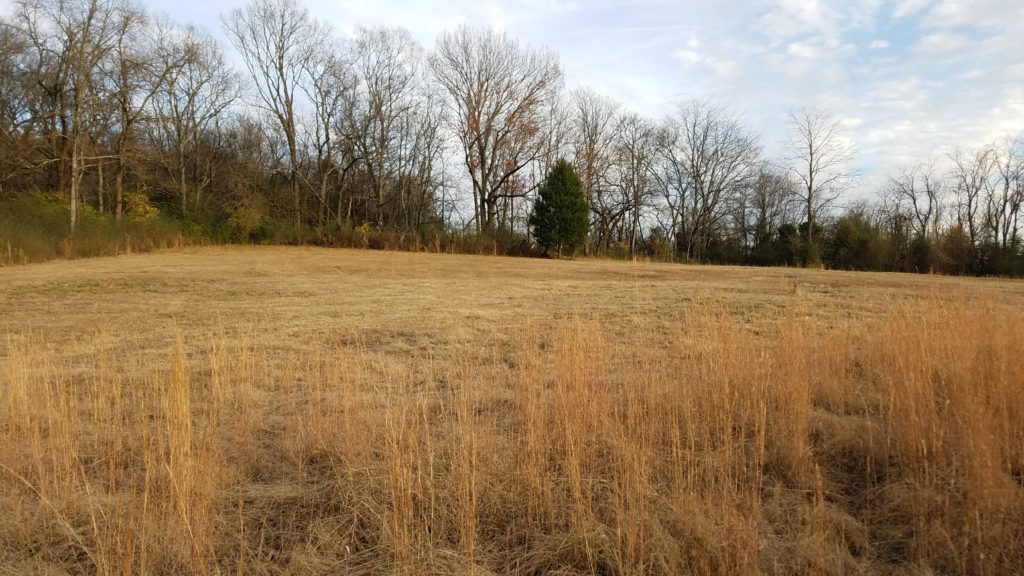 Walking Trails
I visited the land a few days ago to fix the driveway a little better. After that I walked the land. Just in the open spaces. One idea I have had is to install a walking trail around the property so I paced the cleared areas. This way I could see approximately how far a lap around was. It came to 770 steps for me. If the average male step size is 31 inches that puts the distance at around 1989 feet. I may set up markers later to indicate each 1/10th of a mile.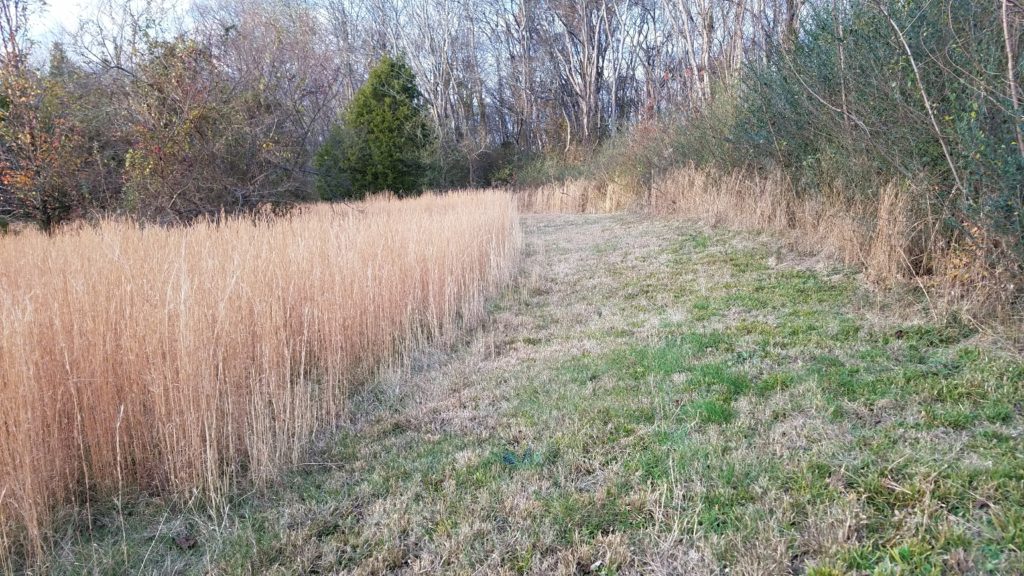 I intended to take some nice pictures with my good camera but my batteries died on it! In this age of cell phone cameras my Nikon D40 isn't getting the use it is used to see. There's no comparing photos from a cell phone and a DSLR camera. The optical zoom trumps all in my opinion. I was still able to take some nice photos while out there.
Garden Pathways
I'm a pathway and trail fan. Our current garden has multiple pathways wander upon. I know I will continue that in the future. It's a source of meditation for me to walk down the garden path. The last time we mowed I cut a pathway through this grassy area and left the bulk of the field alone. I'm looking forward to creating more pathways for the gardens. Whether it be wildflower gardens, shade gardens, and vegetable gardens will all receive their own special pathways!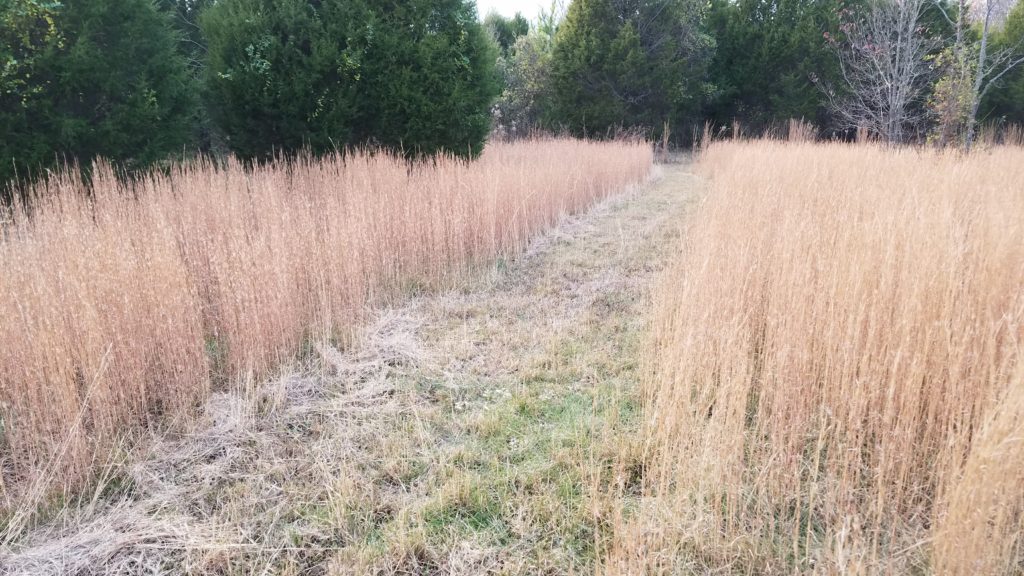 Late Season Fall Color
I've always enjoyed some nice fall color but this time of year it can be scarce. I found a couple of nice Oak trees still displaying some late season fall color. In some cases they are surrounded by weedy trees that need cleared out. Locating them this time of year allows me to know which trees to clear out before spring.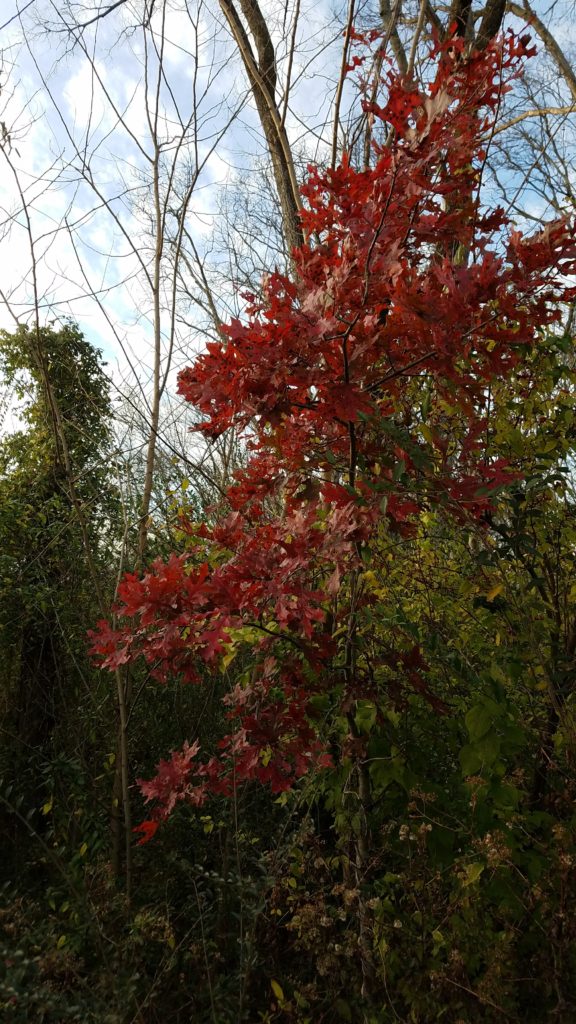 I believe these are red oaks (Quercus rubra). Oak trees are reknown for their strength and longevity. They like to grow in rich and slightly acidic soil.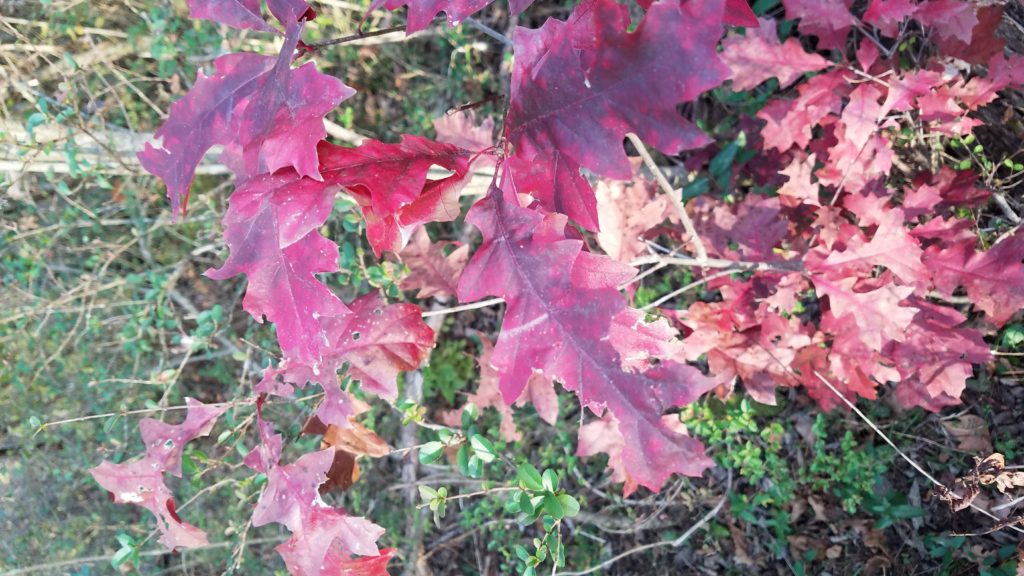 Middle TN Skies
The land is only about 10 minutes away from where we are now. The winter skies in Middle TN can be spectacular to view and I was fortunate to see some beautiful skies while I was out. Our weather was warm but cold air was moving into the area.