The cobblestone patio is close to finished, very close, but not quite done yet. I had hoped to have the it done before my daughter's third birthday (this past Wednesday) but Fay had other plans. The rains delayed my work for several days both while it was raining and afterward since I had to wait for the sun to dry out the sand. We really needed the rain so I wasn't too disappointed.
Here's a look at where the patio was as of Monday morning. I've cleaned up the step landing and it is now nice and flat. The paving stones are all laid out and leveled except for the ones on the right side of the picture that will eventually be a pathway that turns out into the yard. I'm still not sure exactly how I want to complete that area right now. I'm leaning toward shortening it a little and converting it into a mulched walkway. On the right side of the patio (toward the backyard) I've put together a small landing for the grill that still needs finished. It has the paving stones but they haven't been set with the sand yet.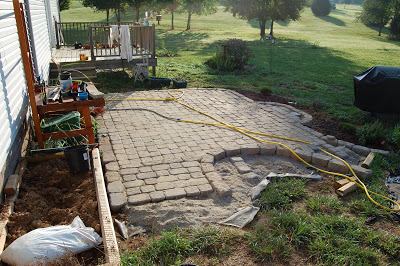 To the left of the grill I spaced one of the mugo pines I picked up off the discount racks a few weeks ago. I made sure there was plenty of space between the grill and the pine since the heat from the grill could potentially damage the pine. If you look closely you can see my newspaper sticking out from the mulch. It will get covered when I finish mulching the bed.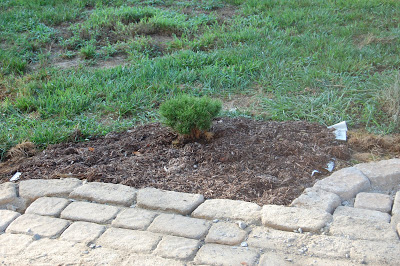 Here's the right side of the grill landing where I planted the other mugo pine. Behind the mugo pine you can see a glimpse at my small and measly herb garden. The big plan I had for my herb garden layout was never accomplished, there were just too many other things to do this year. Maybe next year. But this little crop of herbs has been good enough for our needs. We planted it with basil, oregano, lemon balm, and rosemary.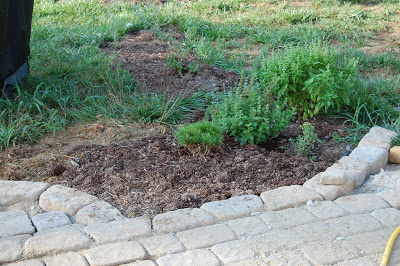 What's left to do you ask? Or maybe you didn't but I'll tell you anyway. I need to fill the corners with specially cut stones, finish sweeping sand into the cracks, mulch around the garden beds, and plant a Japanese maple in the raised bed. Then maybe we'll get to enjoy some spiced hot apple cider outside on the cobblestone patio on a cool autumn day.
Previous Patio Project Posts: