Things are going well with the vegetable garden remodel even though the pictures may not fully illustrate it (see the layout to get an idea as to what it will look like). Right now it looks kind of like a war zone complete with with bunkers, foxholes, and fencing but soon it will come together. You have to start somewhere! These photos were taken toward the evening from inside the house and are not the finest quality. Right now I have a random selection of raised beds reorganized and you can easily see the difference between the new wood and the old wood.

On the right side of the garden I have the 4'x8′ garden bed complete and filled with soil, a 4'x3′ bed filled, and a 4'x6′ bed filled and planted with strawberries. For now I'm going to leave a grass pathway down the center as it should be easy to mow once I get a different push mower, maybe you remember how I blew up the last one (if any mower company wants me to review one right now I'd be happy to oblige! Especially one of those cordless electric ones. I'd love to get hold of something I can't blow up!). Once I get that part complete I can put the wire fencing back up and resume gardening as usual. I still have some digging and grading to do in the back right corner of the garden. I also need to get a hold of a few more boards to complete the raised beds and I need to till the area for the back beds which won't be raised beds this year but may become so one day. For now they will grow the corn and beans.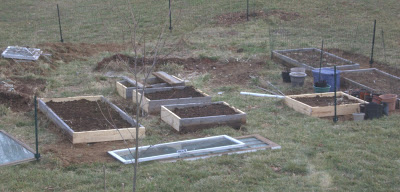 When the weather warms up I'll complete the remodel and begin the planting. The warm weather we had last week gave way to regular old Tennessee-in-February weather. Now I need to do some serious planning on what is going into the garden this year!