The evolution of a garden is an interesting thing to look back at from time to time. For this month's Gardening Gone Wild Garden Design Workshop: Made in the Shade I thought I would take a look back at where my corner shade garden was and where it is now.
Here it is last year before most of the work was done to it.
I removed the large ugly frost damaged bush from the back corner which left the corner bare.
Then I spent some time weeding the strawberry plants throughout the year. Those things are still coming back. In the garden went heucheras and hostas. Eventually I added an oak leaf hydrangea.
The plants gradually grew, as plants are known to do, and I added a natural stone pathway through the garden for the gas meter reader person. I thought that for the meter reader's convenience and the safety of my plants this was necessary! Coleus that was rescued from the discount racks was planted and new plants like Soloman's Seal were added from a plant swap.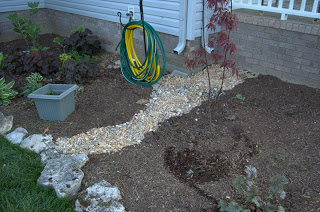 This year I've added a few things to the area like the
dry creek bed
I put together to guide rainwater away from the house. Just to the right of the dry creek bed is a Japanese maple that was another rescued discount plant I bought at the end of last season. The stone border was a new addition I added around the garden this year. It's made from gathered limestone which is common in every area in Middle Tennessee except for my yard. I'm not sure I have a single rock here that I haven't imported!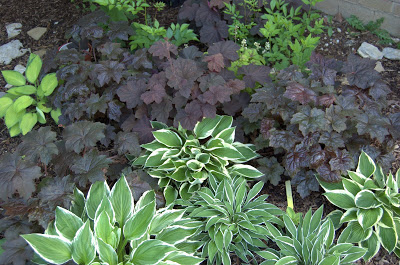 Here's a look at the foliage in the shade garden all filled out. The edges of each plant touch and slightly overlap which helps to reduce moisture loss from underneath. Not that that has been a problem this spring! We've had an over abundance of downpours this year. In fact we've probably forgotten what the word "drought" means but we should always keep it in mind as it could strike at any time.
Here is the shade garden from the other side of the Arbor. I'm pleased with its progress but it will gradually change over time as the oak leaf hydrangea gets larger. I'll probably end up having to move heucheras further out but that's not a problem since that will give me an opportunity to divide them and you probably know that I like more plants, especially when free!