Ornamental grasses are definitely something special to add to the landscape. They add texture, height, and a much needed contrast to flowering plants and wide leaved foliage plants. Ponytail grass (Nassella tenuissima) is a great ornamental grass to choose for many gardens. It goes by several common names like Mexican Feather Grass, Silky Thread Grass, and the aforementioned pony tail grass. It's a beautiful grass planted next to hardscape areas especially around rocks.
Recently I revamped my parents fence garden using some plants I purchased for Mother's Day as well as some that were preexisting in the landscape. The ponytail grass was one that they purchased last year but didn't have a location for it. They overwintered it in the garden until I moved it for them into the newly remodeled garden (I'll show you tomorrow)!  When ponytail grass is backlit by the sunlight it looks fantastic as it billows in the wind. Grasses in general can add an element of motion to the landscape.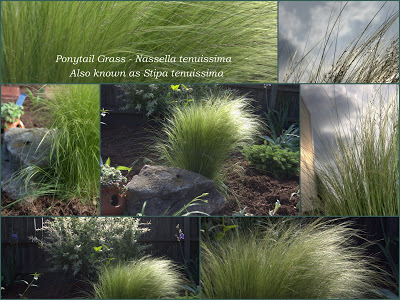 Ponytail grass is recorded as being hardy to zone 7 but it seems to do fine in zone 6 gardens. It overwintered well with an extra cold winter this year and you can see how the grass looks now. There is one small warning to take note of – it may reseed. That is not a major issue, by any means, as the seedlings should be easy to pick out of your garden. You may just end up with extra plants to spread out or plant enmass. I liked the feathery appearance of the ponytail grass so much that I bought four of them today for my garden, now where should they go?
Another great ornamental grasses: Muhly Grass (Muhlenbergia capillaris).