Since I've talked so much about the arbor itself I thought for this post I would highlight the garden that the arbor takes you too. If you look past the arbor you will find a quasi-Japanese shade garden nook. I say quasi because it's a hybrid of Japanese and American plants. The Japanese elements are the Japanese maple, a side order of hostas, and two clumps of Japanese forest grass that were just added. There are native elements as well which a purest would say don't have their place in a Japanese garden but really look very cool together. Take the hosta and heuchera combination for instance. Although the origins are continents apart these two plants seem destined to be together. Hostas originate from Asia while the heucheras are native to parts of North America.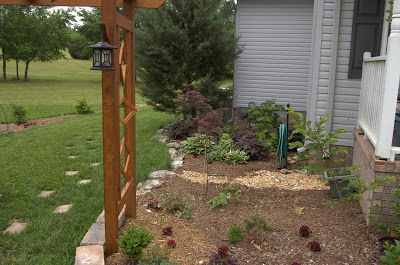 Here is the view from the self-seeding garden. The only thing I'm not thrilled with is the gas meter. It's one of those necessary evils that I just can't do much about. The corner shade garden has quite a few elements going for it now, mature shade tolerant plants (like the aforementioned hostas and heuchera as well as the astilbe, oak leaf hydrangea, and a couple annual coleus plants), a dry creek bed for downspout drainage, and natural limestone borders.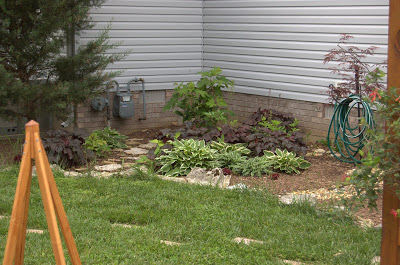 The arbor really helps to enhance the area and entice the eyes down the pathway. I hope when the self-seeding garden gets going that it will be something unique and special to bookend The Arbor Project in between. Don't forget to head over to Better Homes & Gardens to vote for the Arbor in the 48 Hour Blog Challenge. I may be down in the voting but I won't give up until the end.