Last week I put together another downspout dry creek bed to help escort the water away from the house foundation. We don't really have any issues with too much moisture around the house but it's better to think preemptively and solve those dilemmas before problems arise. Besides this is such an easy project to do that it can be started and finished within 30 minutes.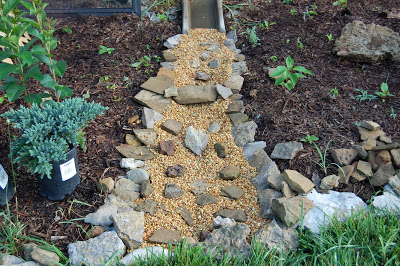 This is the second downspout dry creek bed I've put in this year and it only involves a three steps.
Direct the water down the pathway by digging a trench a little deeper than you need it.
Lay a plastic layer over the trench to keep water flowing away from the house.
Cover with stone. I used a combination of gathered limestone and pea gravel. After the pea gravel I edged it with the other stones and made patterns.
Toward the middle I placed on stone across the creek for a miniture bridge. You can't see it too well in the picture but I also placed a sprig of 'Walker's Low' Catmint to the right of the dry creek bed. The idea is to allow the rainwater to brush against the fragrance foliage of the catmint to transmit that scent all around. We'll see how that works. If it doesn't work at least it will look great! Also in this area are redtwig dogwoods, a crape myrtle to the left, and some salvia to the right. All of these plants except the crape myrtle came from cuttings. The crape myrtle was a transplant from my parent's house.