When the flowers are pretty much gone it's time to harvest the result: seeds! Saving seeds is a great way to reduce your plant budget for next year, especially when the plants you save seed from are known for easy germination. Recently I collect some poppy seed from our red poppies in the self-sowing garden. Some of the seeds I'll collect and others I'll sprinkle around wherever I may want poppies to grow next year. They bloom from spring to early summer (I did have one orange one bloom this week even though it should probably be finished) then they fade away.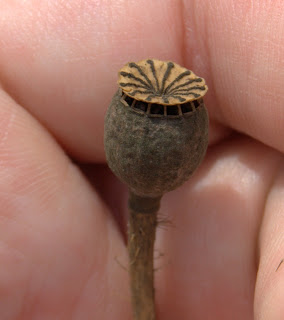 Even when the poppies have faded away they offer some interest in their seed pods. They resemble little cups with lids. The lid is actually made from the stamens that have dried on top of the fruit to create an enclosed seed pod.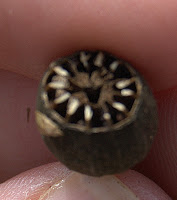 Harvesting the seed is very easy. All you need to do is peel off the top of the seed pod and pour the seeds out! There are quite a few seeds in each pod. I won't take the time to count the seeds but an estimate in the 100's wouldn't be far off.
Now there are two choices to make, I could store them for the winter and sow them in spring or sprinkle them around where I want them to possibly spring up in the future. I think I'll do a little of both!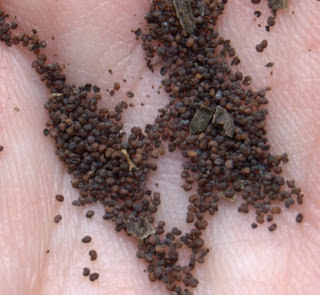 Disclaimer: Please note that I am not collecting seeds for baking uses or for development of illegal substances. Nor should you!