What a difference three years makes in the life of a plant. Welcome to my front sidewalk garden at the beginning of July. You will notice right off the bat several flowering perennials on the left side of the sidewalk that could use a little pruning. The Russian sages (Perovskia atriplicifolia) are towering over the walkway.
In retrospect this probably isn't the best location for these large perennials, but I really like them! They attract all sorts of pollinators and their lavender colored flower spires last well into fall. Even when the foliage drops off Russian sage still stands out in the garden with ghostly white stems reaching toward the sky. And besides all that they are just plain cool! I suppose after this season I will revamp the front sidewalk garden and move my Russians to another location. Any suggestions? I already have several new Russian sage plants growing in other places from propagation through hardwood and softwood cuttings, should I start a new garden?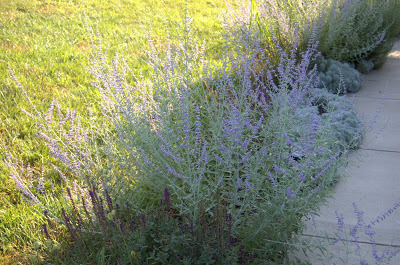 The deer don't like Russian sage and neither do the rabbits due to the fragrance of the leaves which makes it priceless in my landscape. Although Russian sage is not a true sage and shouldn't be eaten it does have a really interesting scent.
Aren't summer blooming perennials great! What is your favorite July bloomer?