As I mentioned in a previous post about fall vegetable gardening we're in the window of opportunity for getting those fall veggies going. All those cool season vegetables you planted for spring are eligible for a second go round in the garden. In our garden the radishes are rising, the sugar snap peas are sown, and everything else is will be green and growing soon. It's all been planted and all that is left to do is to continue the weeding, monitor the watering, and to tolerate the waiting. I did alter my fall vegetable planting layout slightly. I was forced to change my bean area to a 2 foot by 4 foot section rather than the 1 foot by 4 foot section in the layout. Part of the reason was to make more beans for freezing but I do have to admit I forgot my layout when I was planting and accidentally doubled their area! That's fine by me though since green beans are regulars in our menus. It does mean I have to sacrifice some square footage originally intended for broccoli, but that's sacrifice my wife was ready to make!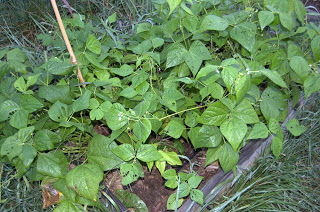 This batch of bush beans is already producing. I planted them a couple weeks before our final batch of bush beans which you can see have sprouted in the next picture. There are a couple pole beans planted in the the bed that I need to stake up mixed with all the remaining seed from a packet about four years old. Seeds are amazing things, they can stay dormant for years then pop up and grow when the conditions are right.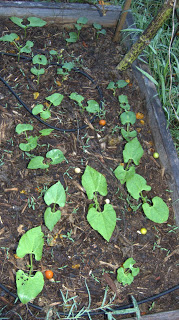 The next batch of bush beans was planted in three irregular rows by my daughter and myself. Crooked rows don't matter as long as my daughter learned a little more about this gardening thing we love so much. My thought is to get the kids involved as often as I can to introduce that gardening habit. Kids who grow their own food and see where it comes from are more likely to eat it.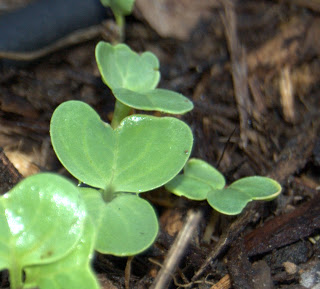 The radishes are coming up all over their area. I'll thin them out soon since I over planted them to ensure adequate coverage.
I can't wait to see more sugar snap peas appear this fall. The few we had in the spring were so delicious that they never made it inside the house! I'll probably have to tape my mouth shut when picking the peas to avoid the same problem this fall. As an added benefit these are legumes which help to add nitrogen to the soil. I have them planted in an area that may house tomatoes next year and the extra nitrogen will help those tomatoes get a good green start.

And of course what vegetable is probably the most popular one in the fall for ornamental reasons?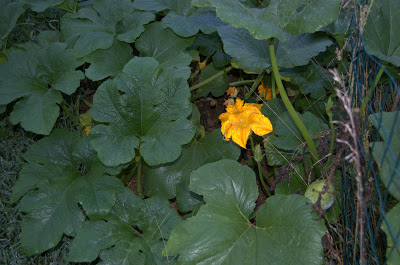 It's the Great Pumpkin of course! Maybe this one will be something more impressive than last year's little pair of pumpkins. They aren't Atlantic Giants or anything terribly impressive just Jack-O-Lantern pumpkins but that's exactly what we're looking for.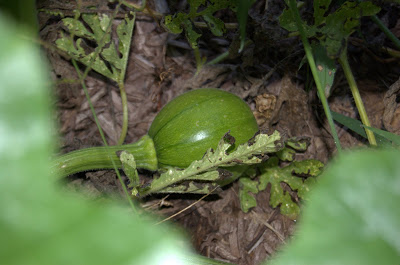 I'm still waiting on the lettuce, spinach, cabbage, and beets to show their greenery. Another preview of fall weather is coming up this weekend which might entice the little leafy green veggies to show themselves. Several cucumber seedlings are not pictured in this post but are definitely on their way. We'll see what they can do before the frost takes them out in October.