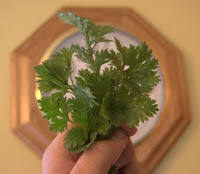 One of our favorite herbs around the house is cilantro. Cilantro seems to be one of those herbs with a flavor that you either like or don't. From what I hear those who don't like it think the herb tastes akin to soap, but here in our house that is definitely not the case.
Cilantro likes the cooler weather and has some frost tolerance and as long as the frost is a light one. Since it enjoys the cooler weather cilantro is best planted in spring and fall and will reseed if the plant is allowed to got seed. This past spring I had two cilantro plants that bolted (went to seed) when the weather started to turn warmer. I let the seeds finish forming then sprinkled them in one of my small
raised beds
where I now have quite a few plants coming up. Three of them are 6-8 inches tall while the others are only about 3-4 inches and number in the 20-30 range. Some of them will be coming with me to the plant swap this Saturday. Cilantro can be grown indoors but I haven't managed that feat successfully. I'm a definite outdoor plant guy ~ I tend to forget the inside ones!
We use cilantro in meat dishes, Tex-Mex dishes, and of course my favorite side guacamole! And wouldn't you know it, guacamole just happens to be what I was putting together this morning. Unfortunately avocados won't grow outdoors around here so I have to wait until they are at a good price at the store and when they are we have guacamole.
Here's a recipe that I find works well for our guacamole. As in any recipe you can adjust the quantities to suit your needs and tastes.
Dave's Guacamole Recipe

3 avocados (chopped)

1/4 cup finely chopped onion

2 small cloves garlic

1/2 a lime (I save the other half for the main meal, usually chicken fajitas)

1 tablespoon of chopped cilantro

dash of salt (to taste)

Just put the ingredients together in a bowl then mix with a fork while mashing the avocado into mush. I like to leave the guacamole with just a few small chunks of avocado for texture. I'm not a big fan of guacamole that has sour cream mixed in with it. To me it seems to dilute the avocado flavor.
Feel free to fiddle with the recipe, I do from time to time! Some people like to add tomatoes to the mix or little hot pepper sauce to spice it up.
One more thing, when you store guacamole cover it with plastic wrap so that it touches the surface of the guacamole even if you have it stored in a container in the fridge. It will keep much better if there is no air to oxidize the avocados.