While I can assure you that my back is perfectly fine (at the moment!) I do need to have some work done on the back of the greenhouse shed. A few more things have been accomplished since my
last greenhouse update
but there are always more tasks to tackle (it seems like I've said that before). Since last time I've fitted a door and two windows on hinges. I also put together a moving wall that will match up with the back door to create a double door for the mowers to come through after use. When I don't need to bring out the mowers I will be able to come in through the back door by just going through the one single door on the left. Once it's all put together I'll show you in detail how it will work.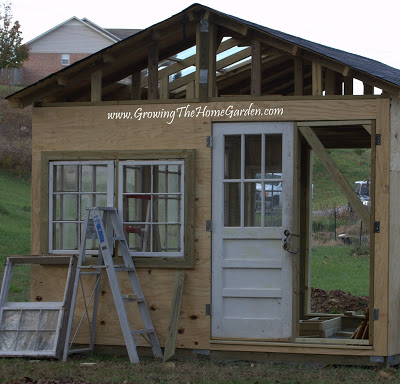 This is the southernmost side of the greenhouse which is where most of the winter light will fall. A good portion of it will come through on the western side which is where the big windows were. Our reason for positioning it this way is party aesthetic and partly function. For aesthetics we wanted to lessen the impact by having the short side of the structure the most visible. For function it had to fit the location and 16 feet back fit better than 16 feet side to side. There is also a small drainage gully that I needed to avoid and the greenhouse had to fit in the boundaries.
I'll be adding a ventilation window in the gable area before we completely close up the gables. I'll rig the window so that it will move on hinges and eventually (as funds become available) I hope to add an automatic opener for it. There area couple kinds of openers that look pretty good one kind uses solar and the other uses a fluid system (see picture on the left from Gardener's Supply Company). The fluid system is pretty interesting. When the temperature reaches between 65-80 degrees F it expands to let out hot air from the greenhouse.
Most of my plant related activities will take place on the southern western and western sides of the greenhouse while the southeastern portion will be the storage area. I haven't designated the northeastern area yet but it may become a shade corner for those plants that enjoy a little less light!
I can't wait to start using this thing!
Still to do on the greenhouse:
Add doors on front.
Finish wall/door on back.
Enclose gables with appropriate locations for windows.
Siding, Siding, Siding.
Fix locks and latches on windows and doors.
Insulate, caulk, paint/stain outside.