Last year I began what will become an annual tradition of laying out all the garden projects I plan to work on for the year. This way you can get an idea what I'll be getting myself into even if I don't! Last year's list changed as I went through the year and inevitably this one will too. Sometimes projects pop up unexpectedly like the Arbor I built or the greenhouse I'm working on now and other times they go exactly as planned or not at all! Each new year brings with it a mountain range of potential and you just never know what's just over the next peak.
So let's take a peek at what I'm into (or in for) this year!
1) First and foremost I need to finish the greenhouse. I'm close, so close I can see where everything is going to be inside, what landscaping I plan to do on the outside, and the potential this project has for my garden. The greenhouse still needs siding, sealing, flooring, insulating, and painting/staining. If I can get it sealed and insulated the rest can wait until later.
2) I want to build at least four more raised beds for the vegetable garden. Raised beds are definitely the way to go in small backyard gardens. The raised beds I intend to put together will be 2'x10′ in size like I put together in this raised bed vegetable garden layout. I also have one more place I would like to install an extremely long but narrow raised bed or a series of beds to move my strawberries into.
3) Build the fence around the vegetable garden! Here's one project from last year that hopefully will get tackled in 2010.
4) Landscape the beds in the back of the backyard with a variety of plants and flowers. I'll put together a design plan soon that will show some general ideas I have for the back corner of the yard where the greenhouse resides.
5) Finish the patio sidewalk to the garage door. Like the fence this one was deferred to 2010.
6) Build a decorative bridge! I've been wanting to get to this project for a long time with some old deck lumber I have in the back. Unfortunately much of the wood may be not be usable but I'll see what is and put something together.


7) Put in some new garden areas on our front hillside. I want to transfer several Russian sage plants from our front garden for use in this new area.
8) Redo my front sidewalk garden. The Russian sage plants are getting a little large and need transplanted somewhere, it's a good thing I have a spot for them!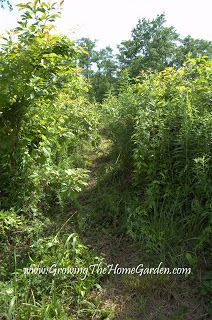 9) Establish the hillside pathway. We have some pretty large slopes that are covered with weeds and brush. Some of the weeds are welcome because they house beneficial insects but I would like to edge and add gradual steps up to the top of the slope and eventually landscape the resulting new garden areas.
I may end up adding some to the list but I won't remove any away so that I can see how much I can complete! We'll actually have our hands full in July as we expect a new arrival around the 6th. I have a lot of work to do before then!
Happy New Year!