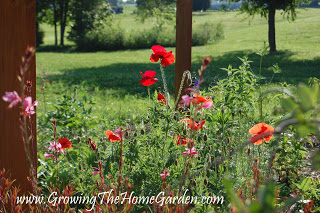 Self Sowing Garden
Unfortunately I don't have any new things to share with you like my title says. The new things in the garden refers to what new things I would like to accomplish with my garden this year. I've been doing a lot of virtual gardening lately; looking at old photos of the garden and I glimpsed a few new things that I added last year. New things like my self-seeding garden, my arbor, quite a few new plants, and I can't leave out my greenhouse shed (started a new feature on it today but it's not ready to blog about yet!).
This time of year in 2009 I was rearranging the vegetable garden to fit into a better layout. Of course you could go look at my project list to get an idea of some of the larger projects I'd like to tackle but let's go somewhere else for right now and brainstorm 5 new things that I want to add to the garden.
New heirloom vegetables to try. The heirloom seeds have been purchased but none have been planted yet. This week I hope to get many of my vegetable seeds going to get them ready for spring planting.
Add more penstemon varieties! Penstemon is such a great plant – easy to grow – great for hummingbirds, bees, and other pollinators – it looks great – and of course it is easy to propagate.
Make the garden more child friendly. As my children grow older they fend for themselves a lot more. Maybe fending is the wrong word. I mean that they roam about the yard, play on the swingset I built, and are becoming more independent. I'm still there whenever they are but they seem to need me less and entertain each other more. I want them to enjoy the garden and have fun with it. One idea I had was a sunflower maze – nothing huge just something for them to run around inside and explore. I've toyed with the idea of a gourd tunnel for a couple years now, maybe I'll actually do it this year!
Hillside gardens. The slope is huge and looks very unkempt most of the year. In the fall the golden rod glows with snakeroot and ironweed and it looks nice but the rest of the time it's a scraggly mess. I'd like to add one or two garden beds on the slope to help the slope become more interesting year round.
Crazy about canning. Recently we enjoyed some very delicious (homemade) tomato soup with some of the summer vegetables we canned. I really want to do more canning to help lower our food budget and raise our food quality over the winter!
There are 5 things that hopefully will be new (or improved in the case of number 5) in my garden later this year.
Garden Blogger Assignment:
Write a post about the 5 Things That Will Be New in Your Garden this year! Try to be specific and imaginative. It doesn't matter if you think you can get them done, just write what you want. Try to put up a post by Friday February 26th and I'll link to it here. It's still February (and winter) which means most of us are still only dreaming about gardening!
Completed Assignments: