Have you ever had one of those days where you start on one project then move to another, then another? I do it a lot this time of year where I begin something finish then move immediately to another one. It's a kind of flow where I just can't stop doing something in the garden. I have to be careful because I could just go until dark without stopping.
Today I started working on the garden shed. My mom took the girls for the day and I went to work adding plywood paneling to the inside. I used whatever plywood I had leftover from the outside walls and the roof as well as some that I had stored in the garage and covered the inside of the garden shed with several forms of plywood. Eventually the walls will get painted which will help them blend but a little mismatching doesn't matter – especially when you aren't having to go buy more materials.
I came to a stopping point on the garden shed then moved toward the mowers. Our hillside is full of dead brush from various wild plants and I've been gradually cutting pathways through them. Last week I cut several branches from a couple locust trees and several wild rose bushes to make a couple new paths. Today I used the mower today to clean up the pathways.
After that I began mowing with the push mower along our slope in an attempt to clean up a new garden area. It will serve as an entrance to the pathway system. I need to figure out a way to incorporate steps up the slope. The steps will eventually go up the path in the center of the picture while to the right will be seating area and the left will be meadow plants. Right now the hillside is mostly composed of sassafras, Queen Anne's Lace, goldenrod, a few ironweeds, pokeweed, and several vine plants.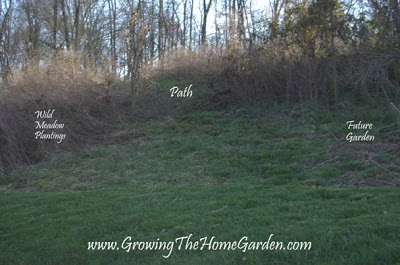 Hillside Garden
After mowing I went and pruned out branches from several trees and cut down several sassafras saplings. They tend to grow together too thick on our hill and a little selective pruning will improve the area.
Do you ever get into a gardening flow?