No I'm not referring to the stimulus package here. I'm talking about what possibly could be the most handy tool you ever use for spring gardening – the tarp. As my gardens have grown over the last several years I've added many more plants. As all gardeners know with more plants comes more responsibility and more work when spring cleanup comes. All dead growth needs cleaned up, pruned out, and disposed of in a good location – ideally the compost bin. Sadly my wheelbarrow just isn't up to the task. It would work in a pinch but would require multiple trips back and forth to the compost bin. The tarp is the simple and easy solution that saves the day!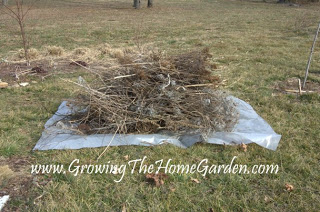 That one 6'x8′ piece of plastic came in very handy to haul all the garden debris to the back yard for composting, and in one trip. In this case I didn't actually use an official tarp I used 6mm plastic sheeting that can also be used for row covers. It was easy to slide the plastic tarp with a pile of clippings, prunings, and dead leaves 4′ wide, 3′ high, and 6 feet long across the grass to the very back of the backyard.
TARP definitely saved my gardening today!