As I mentioned yesterday I had a visit from another garden blogger to my garden. It's not often that my garden gets company and I'm always a little nervous about the things someone might see. Like the loads of Johnson Grass invading the beds (all the beds) or the currently unkempt nature of certain areas of the garden I just haven't gotten to dealing with yet. You probably realize this but with the blog I can control what you see which often results in me putting the garden's best face forward. I can censor the weeds, the overrun areas, and the plants that have died (every now and then one does!). I do share the bad on rare occasions but it's human nature to want to share the good and not so much of the bad. Of course the garden blogger who visited shared some wisdom with me – people want to see that kind of stuff, all of it! The good with the bad and how we as gardeners deal with it. It's not always intentional as sometimes I get excited to show all the cool stuff and just forget about the bad. There are a lot of really neat plants and flowers that are doing fantastic in the garden and it's hard to break away to show the stuff that isn't doing so well. I also think that sometimes we consider our gardens as unfinished or as a "work in progress" and are hesitant to invite people or show others until it's acceptable in our own minds (I'll post more on that subject later).
The garden blogger also shared another important aspect of garden blogging: a picture doesn't always give you the whole picture. Standing in someone's garden that you have only viewed through a computer screen looks much different! Some bloggers take a lot of close-up pictures that you just can't get a great visual perspective of the entire garden while others show a good selection of landscape shots. The choice is unique to each blog and blogger but it's truly impossible to convey exactly what a garden looks like through a few pixels with accompanying text.
Every time I meet another garden blogger I always come away with more ideas and a greater understanding of how this whole blogging thing really works and why it's fun. It's not always about the information, but it can be, it's not always about the people, but it can be – mostly it's a combination of both and how it all fits in with the garden experience. We learn a lot from each other and have fun while doing it!
Tina, I want to thank you for the conversation, your visit, and the banana tree on Saturday and I hope to one day stop by your garden! Thank you Naomi for tagging along with Tina and bringing the St. John's Wort (it's already planted)! (and you're always welcome to weed in my garden!)
I'll add the rain garden picture below for a larger garden perspective!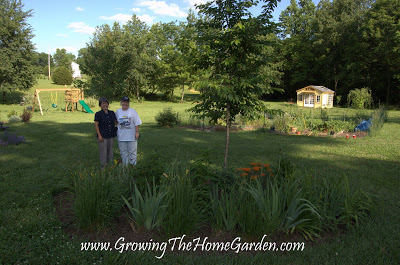 Rain Garden, Naomi and Tina, Vegetable Garden and Garden Shed