Two Shasta daisy flowers covered in the morning dew.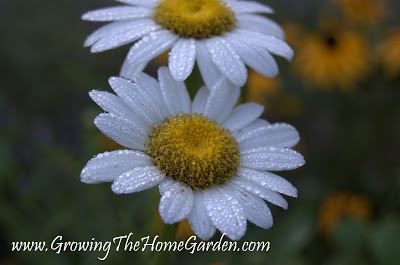 Early this morning (not too early maybe after 7 AM but much earlier than we've been getting up due to the new baby!) I went out with the camera to see what pictures I could find. Back by the greenhouse garden shed where my Russian sage, rudbeckia, and Shasta daisy combination is I found the flowers all covered in the morning dew. It's amazing that there is still moisture to be found out there with all the dry weather we've been having but moisture there is! The morning dew gives an impression of cool temperatures that truly just aren't here at any time during the day. The mornings are hot, the days have been excruciating, and the evenings cool off but not nearly to a comfortable level. I spent a few minutes last night even looking at the January snow fall pictures with longing! (Someone please tell me I'm crazy and to get those thoughts out of my head!) The white daisies is the closest we'll come to snow for a long while as it should be but I'm definitely looking forward to the predicted precipitation for this week.
This past week I showed you all around the garden shed. I did some real gardening (in spite of the heat) and fixed up the plantings with a nice layer of mulch all around. One of my favorite combinations of plantings I added happened completely by accident with the sunflower and 'Shenandoah' switchgrass blending together. The rest of the plantings will fill in over time including beautyberry, another crape myrtle (I'm definitely a fan of a properly pruned crape), several salvias, and all sorts of other neat plants.
I'm really enjoying the tomatoes this year. Cherokee purples, Romas, and all kinds of delicious tomatoes are filling boxes every day for us. It seems every other day I'm making another batch of tomato sauce for storing.
Every week is a busy week! I hope you've been able to get outside an enjoy your garden despite the oven outdoors. How's your garden growing?