It appears that our local deer population has undergone a small expansion with the addition of a new fawn.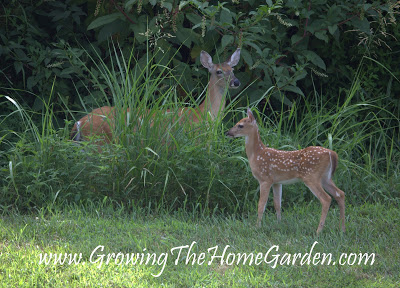 Lately the deer have been keeping to the outskirts of the yard and haven't been bothering the vegetable garden or any of our plants. Many of the plants in the other gardens have scented foliage and are considered deer resistant. The mother and baby deer were in our side yard very close to our driveway. While these deer could be problematic I will just let nature take it's course. This does mean I'll need to protect our younger trees this fall as the buck will need somewhere to rub his antlers. I've seen the damage before and don't want any more tree casualties.
Monday July 12, 2010
Tuesday July 13, 2010

– There are always some rough spots around every garden!
Wednesday July 14, 2010
Thursday July 15, 2010
Saturday July 17, 2010