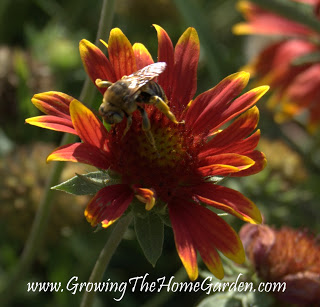 For today's issue of Garden Blogger's Bloom Day I can actually share with you some very nice flowers all thanks to the recent rains. The extra water perked up enough of the garden for it to be almost perfectly presentable just in time for the 15th of July. I hope you enjoy them as much as this happily buzzing bee enjoys the gaillardia!
Coreopsis is another good summer bloomer. Deadheading the spent flowers frequently helps produce repeat blooms. This coreopsis is a descendant of 'Jethro Tull'. Sadly 'Jethro Tull' did not make a return tour to my garden this year.


A trip to the birdbath garden finds us with this scene:
I don't always photograph it from this side but when it looks like this I should! The 'Powis Castle' artemisia provides a nice foliage contrast to the 'Diablo' ninebark. I need to trim back the artemisia before it gets too leggy.
Along one side you will see petunias, coneflower, and rudbeckias all in bloom.
Sunflowers and coneflowers.
Orange Cosmos and Celosia.
Orange zinnias
and yellow zinnias
The front gardens have a few things too like these red annual salvias.
Of course the sunflowers are blooming everywhere. This one seems to be thanking the sky for sending the rain. I probably should too!