Today I spent some time outdoors getting a raised bed put together for our back slope. It gives the slope a somewhat terraced visual effect but the wooden bed isn't needed to hold the slope in place. It's done fine on its own for several years! Here's the view from one side with the garden shed to the left. The plant holding bed is a good 15-20 feet away from the willow tree and the new bed is on the far right. I've temporally added dried weeds over the soil in the bed.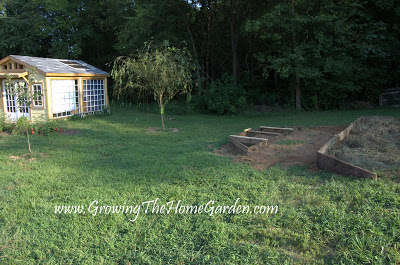 Here's the view from between the shed and the willow. When my finances are better I may replace the wood beds with stone retaining wall blocks. The old wood won't last very long but I'm hoping for at least 2 years out of it. It used to be part of a deck and I'm fairly certain that the pressure treated properties (and chemicals) are completely leached out. Beyond the second raised bed I can imagine another set of raised beds with a small stairway in between. Now that's a project for another year! (Besides I'm almost out of old wood…)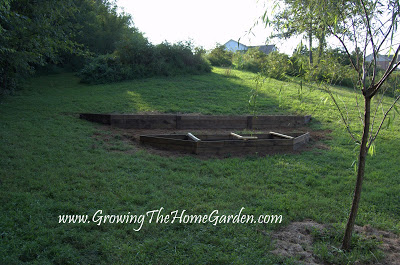 The large raised bed in the back is around 28 feet long and 4-5 feet deep. The bed took most of the day to complete but now I have a bed ready for my strawberry plants to move into in a few weeks. I'll probably sneak a few other plants in the bed as I go – taller stuff that will enjoy having the strawberries as a groundcover. I still need to add soil and compost to fill the bed up higher.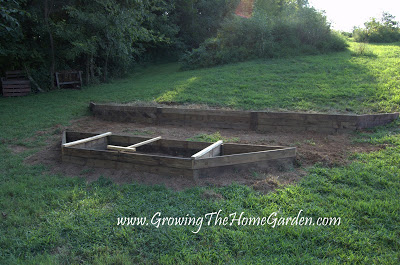 How do you cope with gardening on a slope?