Lately I've been thinking "what's wrong with my garden?" I don't have to look far for the answers. Weeds are coming up everywhere. Plants have suffered under the dry and hot conditions we've had this summer and are only now beginning to come back. Then again some plants are just plain dead like two hemlocks and two mugo pines. I'm not sure why two hemlocks were effected and the others were not especially since they were all treated exactly the same and were in the same conditions. Some mysteries are not meant to be solved!
So what is really wrong with my garden? Here's the short list!
Encroaching weeds – crabgrass in particular which is going to seed now!
Too many plants in too small spaces – when starting the garden I planned on transplanting things in a few years so that I could get a more full look right away. It's now been a few years and it's time for transplanting! Not to mention plants like mint and Sweet Autumn clematis that are bent on complete and total garden domination.
Need…More…Mulch…
The edging needs weedwacked. I had trouble starting my 2 year old Ryobi 4 cycle weedeater the other day. Hopefully I can get it working to trim up the areas that really need it!
The vegetable garden is a mess with tomatoes gone wild, rodents munching my melons, and what else? Weeds! I need to get my fall garden going but have some prep work to do first.
The birdbath in the birdbath garden needs repaired. (The soldering broke on the copper bath.)
Stepping stones need made for the side garden.
The yard needs mowed.
An azalea needs rescued from the weeds along the slope.
A swale needs constructed for better drainage near the shed.
The tiered garden bed needs filled with soil (layered/lasagna method).
The garden shed needs caulked and painted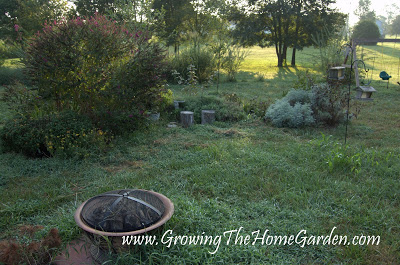 I could probably go on. And on.
So what's wrong with your garden?