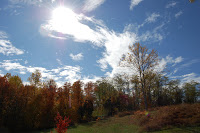 It's that time again! One of my favorite seasons of the year when the leaves change color and begin their graceful decent from the treetops. It's bittersweet to be sure, since it symbolizes the end of the growing season, but it's also a time of renewal as those leaves become compost and nourish our beloved trees and plants in future growing seasons. As our days grow shorter and more and more leaves change color they should be highlighted and celebrated which is the intent of the Fall Color Project! Each year bloggers go out and try to picture what fall looks like in their area. Here with the Fall Color Project I collect those posts all together so that we can see fall all over our country and other countries where we may not be able to travel. Through photographs and pictures we can follow the changing of the leaves from the north and down into the deep south.
It is very easy to participate in the Fall Color Project 2010. First you need a blog, any blog. You don't have to be a garden blogger to participate! Next you need a camera to go out and get the best pictures of fall in your area that you can find. Of course if you are on vacation and take some pictures while enjoying your trip that is perfect too. Then post about your fall colors and mention the Fall Color Project 2010 with a link to this post or www.GrowingTheHomeGarden.com so that people can see what others have posted. Be sure to include where your photos were taken (City, State, Province, etc.). Lastly come back to this post and comment with a link to your post so that I can find it. That's all there is to it!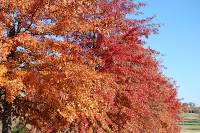 Every Friday I'll put together a summary of all the Fall Color Project 2010 posts that were written during that week with links back to your post. I also include a thumbnail picture from your post with a link to your site. (If you don't want me to use your photo please be sure to tell me otherwise I'll include the picture and link.)
I can't wait to see your photos for Fall Color Project 2010 this year! Each year the colors and photos are always amazing! Feel free to explore the pictures that were taken for the Fall Color Project 2009 or 2008.
If you would like to share The Fall Color Project 2010 and promote it with a badge on your blog please feel free to use the ones below! (More badges may be coming in the next couple weeks.) Just link to the picture to post it on your blog and edit the link to point to this post.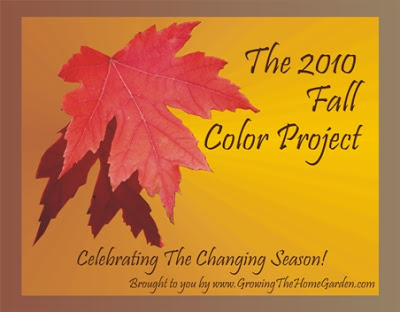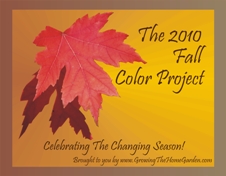 If you need the html code I can send it to you via email, just email me at TheHomeGarden@gmail.com