It's time to highlight a few more neat posts from the garden blogging world! Let's get right to it!
If you're a fan of paths (and I don't know any gardener who isn't) I noticed two posts this week about paths that might interest you. Carol of May Dreams Gardens recently decided to remodel her gardens and is incorporating a pathway into the mix. Catherine of A Gardener in Progress already has an established pathway that looks fantastic with natural stepping stones that guide you down toward a white picket fence. Along the way you have hydrangeas and Solomon's Seal.

For something useful how about visiting Plants Are the Strangest People? Mr. Subjunctive write a nice tutorial on how to pack and ship plants though the mail. Definitely worth a look if you enjoy swapping plants with gardeners over long distances.


And this week on The Home Garden: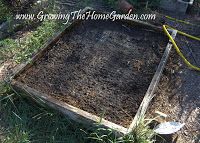 Fall Vegetable Garden
What's wrong with your garden? Would you like to take a moment to rant about that? I did! The weather outside was perfect on Saturday but that hasn't been the case this summer and the garden has suffered. I finally began the fall vegetable garden with a small 3'x4′ raised bed. I'll add more vegetables to the other raised beds each week to stagger my harvests.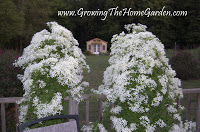 Sweet Autumn Clematis
Earlier in the week I began a new garden using a scalp the grass technique combined with a layer of grass clippings. It works very well for a non-chemical way to eliminate sod in areas for gardens.
Have you ever made a planting mistake? Everyone has…go see one of my recent errors! Of course some people might say my planting of the Sweet Autumn Clematis might be a mistake as well, we'll see!