It's that time of year when the fall plants begin to start their show. One such plant is the Sweet Autumn Clematis (Clematis terniflora). This non-native clematis grows prolifically through the summer and gladly will climb any structure it meets then blooms in the fall. I picked up two of these on the discount racks and even though I know they can be invasive I gave into the temptation to plant it. The reason why is easy to see – the massive amounts of blooms! (which means massive amounts of seed) One is in our back deck garden and the other is planted up by the mailbox.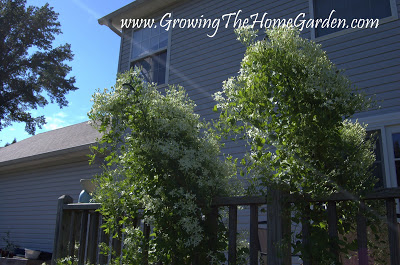 Sweet Autumn clematis attracts the bees and the butterflies and adds an almost honeysuckle like scent to the air. In the picture below a single clematis was planted next to our deck and covered much of the railing as well as two hooks that I used to use to hang bird feeders – in one season! Given the right place this Sweet Autumn could be an asset to the garden. It needs somewhere to cover or sprawl where it won't effect other plantings – somewhere like an arbor, and that's where I'll be moving it this fall. I've noticed around town spots of this white flowering clematis blooming in the wild which does concern me but it definitely isn't to the level of other invasives like honeysuckle. According to the Tennessee Exotic Pest Plant Council it's listed as a lesser threat similar to mint but definitely not to the level of kudzu and mimosa. I guess it's easy to get too much of a good thing!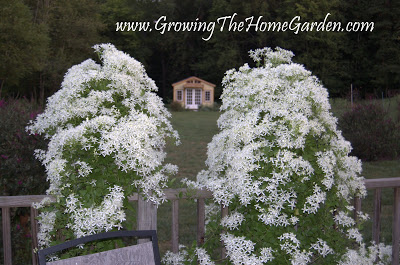 What has been your experience with Sweet Autumn Clematis?