This summer I finally went out and bought my own rain barrel to install on our house. I've been looking for a long time for food grade barrels to make my own but they seem to be increasingly hard to find as the idea of converting them into rain barrels is becoming increasingly popular. I found this Fiskars Rain Barrel (Fiskars 5996 Holden 48-Gallon Rain Harvesting System
) at one of my local box stores and decided to bring it home.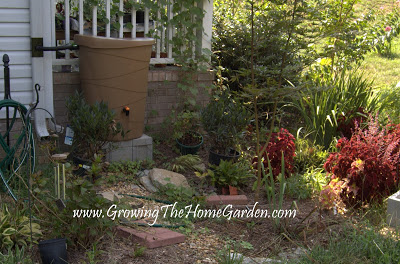 Rain Barrel Installed near the shade garden.
The installation was fairly easy and only needed a hacksaw to cut into our gutter downspout and a drill with a paddle bit for making the hole into the rain barrel. The kit fit into a 1 inch cut out on the downspout and then hose was easily attached. The water spigot was simple to put together also. I made sure to add a few concrete blocks (that part cost less than $5 for 4 concrete blocks and 1″ caps) underneath the rain barrel to raise it where I wanted the barrel before installation since that would make it easier to get water out either with a hose or a watering can.
I've been very happy with its performance this year and I can't stress enough how much a rain barrel helps in the garden. I don't use the water I collect in it for the vegetable garden but I've used it just about everywhere else! The only thing that bugs me is that it's actually $10 cheaper now than when I bought it! (currently $54.95 with free shipping at Amazon.) Isn't that always how it works?
No products were given to me for this review however affiliate links to Amazon are present.