Yesterday I was shopping at our local Lowe's home improvement store looking for weatherstripping for the garden shed. While there I casually sauntered over to the plant area (after picking up three rolls of foam insulation) to see what they had in stock. It's rare that I go to a store that has plants and don't take a look (unfortunately for the garden budget it's also rare that I don't bring something home!). It was there in the garden area that I spied the spoils that eventually came home with me:
3 Dwarf crape myrtles from the Razzle Dazzle Collection!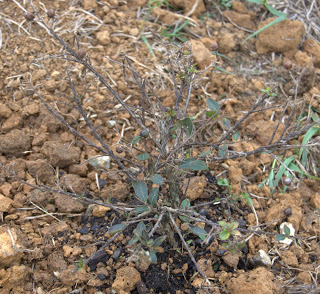 Not impressive at the moment but just wait until next summer!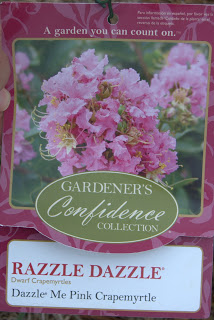 Neat Idea: Take pictures of your plant tags (front and back) then save them in a folder on your computer to reduce clutter around the house! I should take my own advice!
A Montauk Daisy
and my favorite find Heuchera 'Southern Comfort'
I also came home with some ground cover sedums but forgot to take a picture of them!
Obviously I didn't steal anything from anyone but with the prices Lowe's had put on their plants it felt like I was robbing them blind. Each of those dwarf crape myrtles from the Razzle Dazzle collection was $0.25! Yes the decimal is in the right place. I checked to make sure they weren't dead by gently scraping a small piece of bark with my thumbnail until I found green underneath. They were alive and well but with a price like $0.25 I probably would have brought them home anyway in the hopes of the root systems coming back in the spring. The daisy was only 1.50 and the designer heuchera (really this thing is awesome) was…$2.50! A thief I am not but I'm never ashamed to take advantage of bargains like these!
Have you found any good deals lately?