It's been a good while since I had a couple hours to "maintain" the vegetable garden. Ideally I would take 20 minutes each day to weed, search the garden for problems, weed, prune, weed, and tie up tomatoes. Yes you may have noticed quite a few weeds, let's just say so did I! Today I did a little bit of all that, not enough, but I've made headway into the realm of the tidy gardens.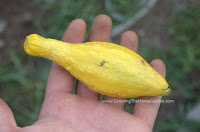 We're beginning to see vegetables ready for harvesting. The squash is now producing. We lost the zucchini during the three weeks without water that began the month of June. My irrigation wasn't set up to go to that bed and as the business of life took over the gardener with the garden hose wasn't as diligent. I may have to fire that gardener and get a new one, oh wait…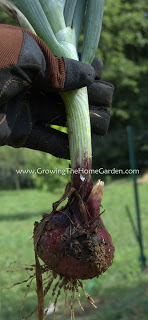 Today I pulled the first onion onion of the year. I love red onions! They are probably my favorite onion for cooking or grilling smothered in olive oil. Red onions seem to caramelize better than other onions and end up with a sweet and slightly tangy flavor. I planted it from small seed onions in the spring.
I pulled a few small carrots from one raised garden bed. They were planted in the same bed with some tomatoes because as that popular companion planting book says "Carrots Love Tomatoes"
! My carrots were a combination of 'Nantes' and 'Cosmic Purple'. Purple carrots are really orange on the inside but the outside sure looks neat. Unfortunately I think a vole has taken a bite out of one carrot.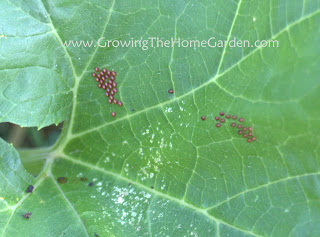 I found these little seed like eggs on our winter squash. Squash bugs. I found the nymphs on the undersides of the leaves and sprayed some insecticidal soap on them. Squash bugs love to suck the juices out of the leaves and fruits of the garden. I wrote a little more about them today at The Tennessee Gardener Magazine blog.
Here's what those eggs turn into (squash bug nymphs, don't they just make your skin crawl?):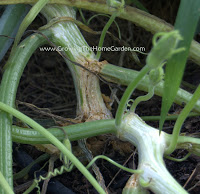 On the same plant I've found squash vine borer damage. This squash won't be around much longer.
Not to be confused with piles of "weed", this pile of weeds came from various areas of the garden. The vegetable garden was definitely overdue for a good weeding.
My melon beds are lush and full of big green foliage. Something tells me I need more garden space! These are also the raised beds with the onions in them. I'll leave the onions in the ground as long as I can and use them as I need them.
I planted some zinnias seed in the vegetable garden in a few places. If you look close you'll notice some Japanese beetles and their damage on the zinnia – better the zinnias than my musk melons!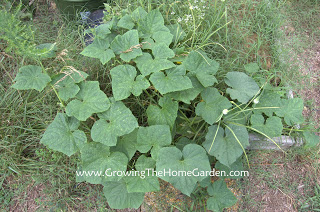 Our pickling cucumbers need trellising. Maybe this weekend I'll finally get an opportunity to do that. Last weekend I went to put the trellis together and rain came pouring down. We needed the rain but couldn't it have waited 30-45 minutes?
This small melon vine is called 'Tigger'. The bright red and orange fruit gets up to about a pound and is supposed to be very sweet. I can't wait to give them a try! No flowers yet but maybe soon.
What do you think, do Tiggers bounce?