Have I ever told you much about my dad? Probably not. I normally keep this blog close to the garden subject area. Sometimes I stray and talk about my kids, but there is usually a gardening slant. I suppose today will be no different because my dad has always been supportive of my gardening projects. He's been there for most of the big ones. I couldn't have built the garden shed without his help. He was there for advice, a helping hand, and company too.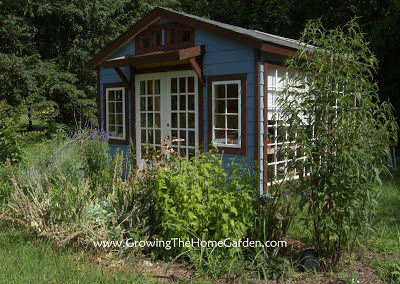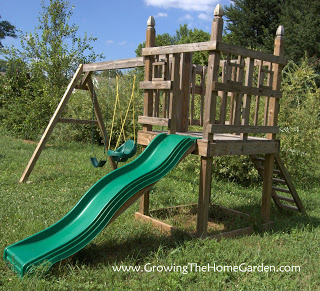 He also helped me build this playset for the kids. That really doesn't have much to do with gardening but it is a prominent feature in our backyard and the kids love to play on it all the time.
When I was working on the arbor project he was there. He helped me raise the top onto the posts and did some of the staining.
Over the years we've done other projects too like the retreat in my parent's backyard. It's a pavilion over a patio that they've used as an outdoor living room. On a blazing hot summer day it's a great place to retreat to, hence the name! We also built this bench for my mom, although I can't remember if it was for her birthday or Mother's Day. Either way the bench was both a way to make a present for my mom and spend some time with dad. It's weathered well even if the paint hasn't.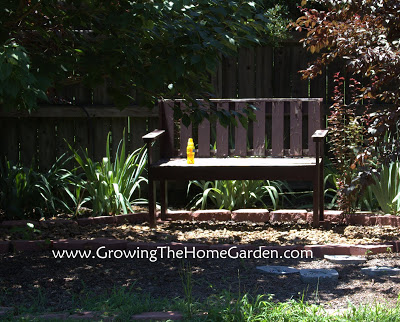 Dad and mom both helped me to get our house into livable shape after buying our house which was in foreclosure at the time. We spent two months rehabbing the inside, getting the walls painted, hardwood floors installed, carpets removed and installed and several other issues straightened out. Our projects brought us closer together.
I am so fortunate to have had those times with my dad, I just wish they could have lasted longer. This past Wednesday dad passed away due to cancer. My mother, brother and me were there as dad succumbed to that deadly disease. He began fighting the cancer in November when it was discovered in his esophagus. He fought through the debilitating effects of chemo and radiation treatments and prepared to have surgery to remove a section of the esophagus to prevent its return. During the surgery the doctors found the cancer had metastasized to his liver. He continued to fight but soon discovered it had spread again, from his liver, to his pancreas, to his lungs, and near his heart. To make it even worse the cancer in his liver had grown and was causing pressure on his side along with pain, lots of pain. He went into the hospital a week ago from this past Friday and we truly expected him to come home for a while but the cancer spread too aggressively. To make an impossible situation even more impossible a blood clot in the liver needed treated with blood thinners which prevented a rupture in the intestine from closing. On Wednesday my dad died.
I've been spending a considerable amount of time trying to get a grasp of everything. It's hard to accept that someone who has been a part of my life since I was born is no longer there. We had the funeral today, with full military honors. Dad was an Air Force veteran of 20 years and served his country with dignity and honor until he retired. And he did the same for his family.
I'll be resuming posting again soon, once life has returned to a new normal. I'm grateful I had the chance to tell my dad what he meant to me but I wish his 67 years would have been more like 87 years. We don't always get the opportunity to say goodbye.
Edit: I have detailed more of dad's fight with cancer on my stay at home dad blog: This Dad's World. You're welcome to visit there and read. I haven't been updating it frequently but I felt that I needed to write more about dad's struggle with cancer.