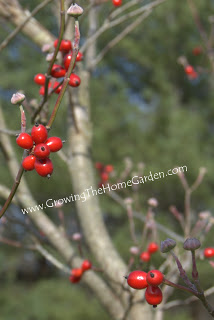 Every year I put out a list of my intended gardening projects that I personally want to accomplish this year. Then back at the end of the year I review them to see how I've done. This year is a little tricky. I have quite a few projects leftover from last year that I still want to accomplish in my garden but I also want to add a few new things. So to create this list for 2012 I'm going to limit myself to just a few more big ideas and allow for some monthly project lists in the future with smaller, more manageable garden projects!
Here is my Garden Project List for 2012!
Continue the reorganization of the vegetable garden. I adjust things every year and I've decided that expansion is not the way to go, better organization is. The parterre style is where the design is going because of the ability to organize crop rotation and the attractiveness of the formal style.
Plant a pyracantha boundary line border hedge. In the back of our property is an area filled with trees. Deciduous trees. There is little to no winter interest anywhere back there. I want to add a pyracantha hedge area to limit deer encroachment, offer berries for wildlife, and create an evergreen screen that will provide privacy from our neighbors through the woods. Where will the pyracantha come from? Plant propagation of course! I've already layered several branches that can be transplanted at any time. More pyracantha can come from cuttings. I like the concept of free plants don't you?
Cultivate the hillside pathways. I added a few hardwood cuttings of viburnum and red twig dogwood to various locations. My goal is to create some nifty pathways will something new to see around every bend. This will have to be a multi-year project. I'll focus on native plants that will add both ornamental and wildlife value.
Purchase and set up a small greenhouse. I have the garden shed which is great for storing equipment, overwintering plants, and propagating plants but I need more space. The last item on this list is going to require a larger area for growing things.
And for the last project on this list, which will hopefully be my most successful one, I'm going to start dream of owning a small nursery! My goal for this year is to see if my idea is something that will work long term. If so we'll expand as quickly the interest in it does. I won't be getting any loans or spending any money I don't have because I feel that debt is something to be avoided at all costs. So I'll start small and sell locally. I'll detail my nursery plans a little more when I'm ready but for now I'll be spending some time working on the logistics. One of the most important things about starting a business I feel is doing the research and for that I'm so glad I bought Tony Avent's So You Want to Start a Nursery (link to Amazon.com). If you are considering starting one yourself give it a read. It's well worth the $17 I spent on it.
There's my agenda for 2012. This list plus the list from 2011 are fair game. What will I get done? When will I get it done? Well, only the future holds those answers. That's why you should subscribe to GrowingTheHomeGarden.com and follow along. How else will you know what I'm doing? 😉
I hope that 2012 brings you only the best!