Ever been to the Nashville Lawn and Garden Show?
Here's the info for 2012:
Gardens
Past, Present & Future Will Be Celebrated March 1-4
at
the 2012 Nashville Lawn & Garden Show
Discussion
of Thomas Jefferson's Monticello gardens among
the many
free
presentations at the show
Nashville, TN – The timeless appeal, importance and fun of
gardening will be celebrated at the 23rd annual Nashville Lawn &
Garden Show on Thursday, March 1, through Sunday, March 4, 2012, at
the Tennessee State Fairgrounds. Gardens Past, Present &
Future is the theme for the 2012 presentation of Tennessee's
largest and most popular annual gardening event.
The show's centerpiece will be an acre of live gardens
featuring thousands of spring flowers and plants, waterfalls and
fountains, trellises and gazebos, and outdoor living spaces. More
than 250 exhibit booths will offer horticultural products and
services, outdoor living décor, gardening equipment, plants, flowers
and more. A floral design gallery will spotlight the
creativity of more than 20 of Middle Tennessee's award-winning
floral designers.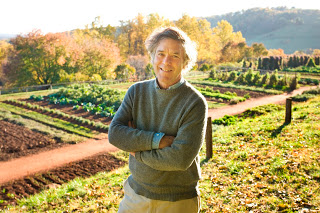 The show also offers the opportunity to hear free
presentations by horticultural, landscape design, and gardening experts. The speakers will include Peter J. Hatch, Director of Gardens and Grounds at Monticello, the home of Thomas Jefferson. Hatch will speak on Friday, March 2, about Thomas Jefferson's Revolutionary Garden, which featured more than 330 varieties of vegetables and continues to provide gardeners with a model in vegetable cuisine, sustainable horticulture, and a passion
for the earth – a perfect example of how gardens reflect the past, present and future. Then on Saturday, March 3, Hatch will discuss Thomas Jefferson, Gardener, an exploration of Jefferson's use of native plants, the union of gardening and sociability, and his experimentation with useful plants as a means of social change.
Among the popular speakers returning to the 2012 show are
Jeff Poppen
,
The Barefoot Farmer
, from Long Hungry Creek Farm, in Red Boiling Springs, TN;
Rita Randolph
, Randolph's Greenhouses
,
from Jackson, TN; and
Justin Stelter,
Historic Gardener for Carnton Plantation, Franklin, TN,
and
The Hermitage, Home of Andrew Jackson, Hermitage, TN. Complete information about
free
lecture presentation topics and times is available at
www.nashvillelawnandgardenshow.com
.
"The 2012 show will particularly emphasize the crucial role that plants, landscape design and management play in creating and maintaining a healthy, sustainable environment," said Randall Lantz, co-manager of the show that is produced by the non-profit Horticultural Association of Tennessee. "From rivers to rooftops to roadways — plants, planting practices and planning can have a huge impact on the quality of life in our backyards and throughout our communities."
Proceeds from the 2012 show will benefit The Cumberland River
Compact, a non-profit educational and advocacy group focused on
promoting a healthy natural and economic environment in the
Cumberland River watershed.
The Nashville Lawn and Garden Show annually attracts more than 20,000
people from throughout the Midsouth region. All events are indoors;
parking at the Tennessee State Fairgrounds is $5.00. The show
is fully handicapped accessible.
For
additional
media

information:
Deborah
Varallo 615-367-5200, ext. 14, or
deb@varallopr.com
Varallo
Public Relations
23rd
Annual Nashville Lawn and Garden Show
DATES:
Thursday,
March 1, thru Sunday,
March 4,
2012
HOURS:
Thursday – Saturday 10:00 a.m. to 8:00 p.m.; Sunday 10:00 a.m. to
5:00 p.m.
PLACE:
Tennessee State Fairgrounds, Nashville. All
events are indoors.
PARKING:
$5.00
FEATURES:
Live gardens, free lectures, floral design gallery, and 250 exhibit
booths featuring horticultural products and services, gardening and
lawn equipment, outdoor living decor, and a variety of plants, seeds
and bulbs.
ADMISSION:
Adults $10.00; Seniors (age 65 & up) $9.00; Children (12 &
under) $1.00; Four-day Show Pass $15.00. Tickets can be purchased
on-line on the show's website
www.nashvillelawnandgardenshow.com
beginning February 1, 2012, for the same price as at the ticket
window.
DISCOUNTS:
Discount coupons will be available beginning February 1. NOTE:
Discount coupons and offers cannot be combined.
$1.00
discount coupons for admission available at participating branch
locations of Regions Bank, the show sponsor.

Discounts
are available for groups of 15 or more adults when purchased in a
block at the ticket window.
ACCESSIBILITY:
Fully handicapped accessible. FOOD/BEVERAGES:
Available in the Café and at concessions.
Do you plan on visiting the 2012 Lawn and Garden Show? It's always fun!