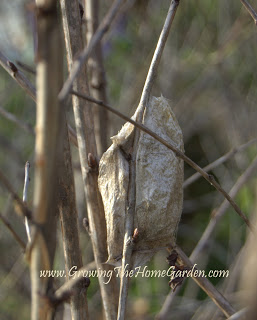 Large cocoon on ninebark
For several months I've been watching this strange cocoon attached to my ninebark. I was curious what might come from it, and a little apprehensive too, then yesterday I found a second one on a viburnum. What if it was something that would chow down on my garden? What if it was some dangerous? What if it was some giant moth insect that would need Godzilla to kill?
Well I did some looking around yesterday on the internet for a clue. Do you know what I found? That maybe two out of the three questions I just posed to you could be true! Which questions? The first one and believe it or not that last one! There are some caveats of course.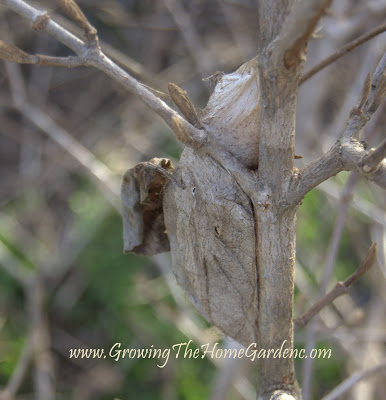 Large cocoon on viburnum
In my web surfing I found that this cocoon is very similar to the cocoon of the Hyalophora cecropia. Which is the Cecropia silkmoth! It's a giant silkmoth with wings that can be over 5 inches in size! So you see it was actually a giant moth insect, although the bit about Godzilla was pure exaggeration. I gazed a few pictures of the silkmoth caterpillar and found it to be equally impressive in its size. The images showed a green caterpillar a little bit small than a person's hand. I bet it could really devour quite a few leaves from my garden should it take a mind to it!
Should that happen I'll simply move the caterpillars to the wooded areas behind our yard. I hope to be able to see the moth that emerges!