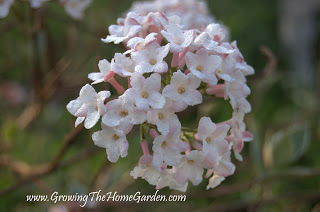 I wish you could smell the garden right now. If I could bring you the scents of my garden through this post I would. What's making my garden so fragrant? A combination of two plants: Viburnum x burkwoodii 'Mohawk' and the irises! The combination of the two is bringing a honeysuckle like fragrance to the backyard. I'm a huge fan of viburnums and my 'Mohawk' is a great one!
Its beautiful white flower clusters appear and spread a fragrance that envelopes a good portion of our backyard. The flowers will eventually turn into dark reddish to black fruits perfect for the birds to feast upon in late summer and fall (if they last that long). 'Mohawk' is a result of Viburnum x burkwoodii being back crossed to a Viburnum carlesii.
A Plant Propagation Note
Viburnum x burkwoodii 'Mohawk' will propagate from cuttings taken in early spring through summer. Hardwood cuttings are also effective.
Viburnums like this one and the 'Shasta' viburnum I wrote about yesterday are great for ornamental value and for feeding the birds! 'Mohawk' viburnums enjoy zones 5-8 and thrive in full sun. We keep it mulched and it stays happy!