Sometimes you don't really know where your garden is going to go. Impulse plants or bargain plants can shape the type plants you put in, the kind of plant can determine where it goes, or you may even move plants to place them in better locations, but this notion of outside forces shaping your garden doesn't just pertain to plants. Elements of whimsy may enhance an area. Maybe you get tired of something structural and move it.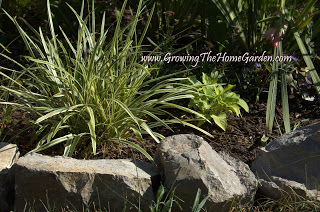 Sometimes it's something else…like rocks! Recently one of my neighbors decided that he didn't want a pile of rocks that was in his yard. They were originally slated to be a fire pit but weren't suitable. Since my neighbors know of my gardening obsession he figured I might be able to use them. I just had to come pick them up. My fascination with rocks as a garden element made this a no brainer! I love garden beds outlined in rocks of all kinds. I like using natural stone better due to its aesthetics but I'm not above using manufactured stone in the garden. Either type of stone can do wonders for enhancing a garden.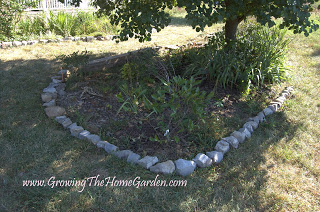 Stone Border around garden
I picked up the truck load of stone last week and steeled myself for working on Sunday afternoon. Yep Sunday afternoon when temperatures were in the high 90's and beyond. Frequent breaks are imperative when working outside in these conditions! As are gloves when working with stone. Not only do stones have rough edges that will tear apart your hands but the sun turns them into baking stones too hot to touch with bare hands. Despite the working conditions this garden enjoyed getting outside and setting the stones along out front garden areas. These new rocks were larger than what I had previously installed and in most cases replaced what I originally had used for borders. Many of the original stones went to a new location across from the front garden as did several manufactured stone blocks that I used a couple years ago for building our side garden entry arbor. Some of these stones were very square and quite large which made them perfect for this area.
The arbor area stonework now extends all the way from the corner shade garden to the front sidewalk with a consistent type of natural stone. Below is a picture of the border stones in the front garden area.
Creeping phlox will gradually nestle against the big stones and soften the look a little bit. To me stones add the appearance of age and maturity to the garden.
The stones doing a great job at separating the garden beds from the lawn – although at the moment the lawn isn't much to talk about! Dry. Dry. Dry.
From the other side of the garden the lined beds create a pathway in between the two garden areas.
The manufactured stone from the arbor area was moved across to the other garden to create a short sitting wall. It's the perfect spot for kids to sit and play in the front garden. This area gets afternoon shade and will soon (whenever the ground is softened up by moisture) house a few new hydrangeas.
I stair stepped the natural stone on the ends to blend the two types of stones together. In a small way this reminds me of some old ancient ruin.
I sat down here several times while working on the front border. I need to trim one branch from the tree above and then the sitting wall becomes the perfect place to take breathers while working in the garden!
How do you use stone in your garden?