It's that time of year again! The end of the old and the beginning of the new. It's at this time of year that I like to review my project list to see how well I accomplished my goals. Every year I come up with a list of projects I hope to complete in my garden then review it at the end! My 2012 garden projects are listed below followed by my analysis and evaluation.
2012 Garden Project Review
Continue the reorganization of the vegetable garden. I adjust things every year and I've decided that expansion is not the way to go, better organization is. The parterre style is where the design is going because of the ability to organize crop rotation and the attractiveness of the formal style.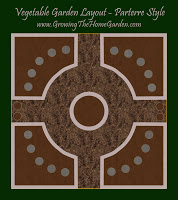 It seems my vegetable garden will never be done! It will continue changing and evolving as I garden. I have some new ideas for raised beds I'd like to incorporate into the garden which may mean the garden's layout has to adjust again. I'll never stop tinkering and as long as I realize that I can maintain my sanity. The parterre style is still where my garden is going but the makeup of the beds (the materials) will be different!
Plant a pyracantha boundary line border hedge. In the back of our property is an area filled with trees. Deciduous trees. There is little to no winter interest anywhere back there. I want to add a pyracantha hedge area to limit deer encroachment, offer berries for wildlife, and create an evergreen screen that will provide privacy from our neighbors through the woods. Where will the pyracantha come from? Plant propagation of course! I've already layered several branches that can be transplanted at any time. More pyracantha can come from cuttings. I like the concept of free plants don't you?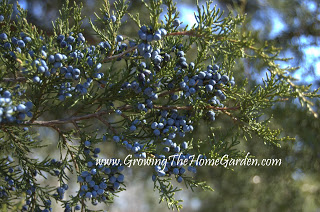 Juniper Berries
The privacy hedge line is a work in progress. It takes time to propagate the pyracantha and grow them. No I'm not making excuses why it isn't done yet – or maybe I am! I've adjusted this idea a little as well. I've found several juniper (Eastern Red Cedar) seedlings growing in my yard which make a perfect privacy screen plant. As an added bonus they're a native tree. I'll keep the pyracantha privacy screen project but I'll add the junipers to it. Having an alternative line of evergreen plants and orange berries in the winter is just the thing our mostly deciduous property line needs!
Cultivate the hillside pathways. I added a few hardwood cuttings of viburnum and red twig dogwood to various locations. My goal is to create some nifty pathways will something new to see around every bend. This will have to be a multi-year project. I'll focus on native plants that will add both ornamental and wildlife value.
Since I said this would be a mulit-year project I don't feel so bad in saying my pathways are still a work in progress! I've kept the hillside pathways clear of weeds and brush this year and sowed some cover crop clover to help feed the soil. I also added a couple viburnums to the property-line side of the natural area. These viburnums flank the walkway into the paths. Next door to us is a house for sale that was foreclosed on and there is no telling how long it will be until we have new neighbors – or even if we'll have good neighbors like the others on our street. The viburnums can be trimmed to allow a pathway through or can be left untrimmed to close in the pathway. We'll save that decision for later – good hedges make good neighbors!
Purchase and set up a small greenhouse. I have the garden shed which is great for storing equipment, overwintering plants, and propagating plants but I need more space. The last item on this list is going to require a larger area for growing things.
I bought a small 6'x8′ greenhouse that is under construction in the backyard behind the vegetable garden. I'm going to use it for growing the plants for my edible garden business. Right now I have most of the frame up and need to attach the panels.
And for the last project on this list, which will hopefully be my most successful one, I'm going to start dream of owning a small nursery! My goal for this year is to see if my idea is something that will work long term. If so we'll expand as quickly the interest in it does. I won't be getting any loans or spending any money I don't have because I feel that debt is something to be avoided at all costs. So I'll start small and sell locally. I'll detail my nursery plans a little more when I'm ready but for now I'll be spending some time working on the logistics. One of the most important things about starting a business I feel is doing the research and for that I'm so glad I bought Tony Avent's So You Want to Start a Nursery (link to Amazon.com). If you are considering starting one yourself give it a read. It's well worth the $17 I spent on it.
My garden business began last year with two divisions. One I called The Home Garden Box where I delivered collections of heirloom vegetable plants for home gardeners. The other was Blue Shed Gardens which was more ornamental in nature and participated in our local farmer's market. I hope to continue both avenues and merge them into one solid business plan this year which I'll tell you about soon. I have some more ducks to get in a row first! The good news is that I didn't lose any money and made a small amount of profit last year. It certainly isn't a financially sustainable business yet but I am hopeful that it will grow and propel our family toward a family owned business that not only will fund our lives but can be left for my children to run when they are ready.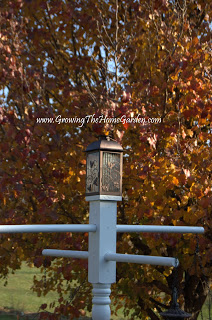 There were a number of projects that I didn't foresee that popped up too. Like the Lowe's Creative Ideas projects that ranged from a Shade Garden to a fancy Birdfeeder Light Post. I also put together a raised bed for plant propagating back near the shed made with old materials like deck wood and a storm door.
Each year brings new ideas, new challenges, and new opportunities. While we don't always accomplish the goals that we set, the important thing is that we enjoy the experience of trying to accomplish great things. I highly encourage you to come up with a few gardening projects you want to take charge of for 2013. Will you start a new garden, build a raised bed, plant more natives, plant more trees, add an orchard of fruit bearing trees, or create a sustainable landscape? The sky isn't the limit your imagination is! Make 2013 the year you turn your garden into a garden paradise. If you've already accomplished that goal then help someone else do the same!
What are your project goals for your garden in 2013? (Leave a link to your 2013 project goal post if you have one!)