Over the weekend I was able to do something that I never imagined I would be able to do and it was all because of blogging: I took a business trip for blogging. I received an email several weeks ago asking if I would be interested in working with Troy-Bilt to try out some of their products. Of course I was interested! On Thursday I boarded the plane for Arizona where I would meet several other bloggers and members of the Troy-Bilt Saturday6 team.
The last time I was a plane was before my oldest daughter (now 7) was born. I was a little nervous about the flight, about security, and about the trip in general. I'm not a traveler, I'm a gardener. I landed in the Phoenix airport on a flight from Nashville about 20 minutes earlier than the flight was scheduled. That eased my nerves. Everything went off without a hitch. After a few moments of wondering where to go I ran into Steve of The Rainforest Garden who was actually on my flight. I looked for him on the plane but never found him and ended up taking the first window seat I could find. (That was over a wing just behind an engine – perhaps the loudest spot on the plane.) Then we went on over to meet MJ who coordinated the whole awesome weekend.
We arrived at the hotel early enough to check in and drop off our belongings then meet to get a lift over to The Desert Botanical Garden. Troy-Bilt brought in a total of 6 bloggers which called The Saturday6. Together we all went to The Desert Botanical Garden. To be perfectly honest I was intimidated by these other bloggers. They were talented individuals who had accomplished a lot in their blogging careers. They've written books, spoken at large conventions, and written articles for magazines. I was honored to be included in this group but I was nervous. In my head I was thinking "I'm just a dad from Tennessee." I learned more about the other Saturday6 bloggers on the van ride to the botanical garden and through the tour and as I got to know them my nervousness eased. They came from all over: Massachusetts, Florida, Minnesota, North Carolina, and Arizona. You're probably wondering who these bloggers are so let me introduce them.
Matt Mattus
Matt Mattus writes the blog Growing with Plants from Massachusetts . His mind is that of a botanist. He enjoys the technical and scientific details of plants and overwinters a variety of tropicals in his greenhouse. His home was built by his grandfather when he immigrated to the U.S. on 6 acres which has a two acre vegetable garden, apple trees, honey bees, as well as some assorted poultry.
Steve Asbell is the talented writer and illustrator behind the Florida garden blog
The Rainforest Garden
. He loves working with houseplants, tropical plants, and is fascinated by pretty much anything that grows. He was the proverbial kid in the candy store at the botanical garden! Steve has also been working on a book which I have every confidence will be a great resource for gardeners when it's published!
Amy Andrychowicz and Steve Asbell
I met Amy Andrychowicz from Minnesota who writes the blog Get Busy Gardening. She writes on her houseplants, her vegetable garden, wintersowing and pretty much anything she can get into in the garden. Amy gets into the plant propagation arena like I do. Her garden is like a Minnesota version of my own but I think I'll take my garden over hers (I don't get as much snow!)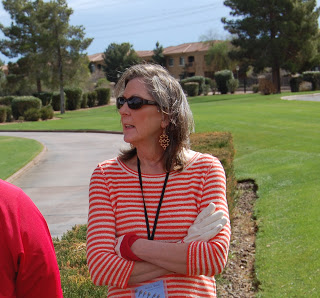 Helen Yoest
Helen Yoest wrote the book on Gardening with Confidence and the blog too! Helen is all about encouraging people to gardening and giving them inspiration and ideas. As you might expect she's an extremely personable, fun loving, and an easy to relate to gardener. When she isn't taking photos posing with random bachelorette parties or of herself planking she's inspiring gardeners across the country to garden with style.
Noelle Johnson was from Arizona near where we met. She's the trained horticulturalist behind
AZ Plant Lady
and helps local Arizonians adapt their gardens to the local climate. She applies her knowledge full time for clients through everything from consultations to design work. Noelle has shared her knowledge though several different publications. She was an important resource for those of us who came from a completely foreign environment!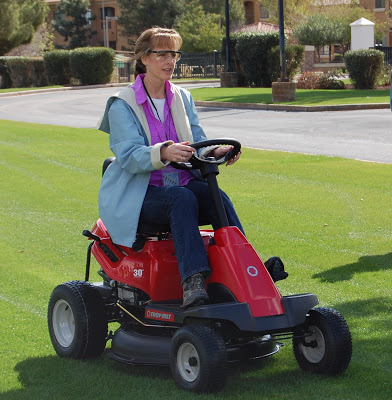 Noelle Johnson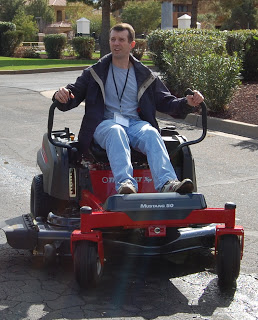 Me – Dave Townsend
As you can see this is a talented group of bloggers and it's my pleasure to join them in the Saturday6 group with Troy-Bilt. While out in Arizona we were able to try out some of the equipment, we learned about the company, and even attended a baseball game but there is something that really stood out to me – the people. The people we met from Troy-Bilt were some of the most genuine, most enthusiastic, and most helpful I've met. That means a lot to me as a consumer and user of lawn and garden equipment. These are people who don't just stand behind the products, they exemplify the company and take pride in what the company does.
It's my pleasure to work and blog with Troy-Bilt!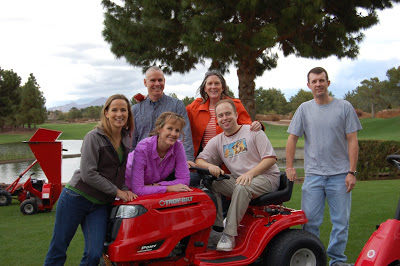 Troy-Bilt® paid for my trip to Arizona and provided the products that I tested. I am receiving monetary compensation for my participation in The Saturday 6. All opinions, descriptions, statements, and evaluations of Troy-Bilt® products or events are my own.