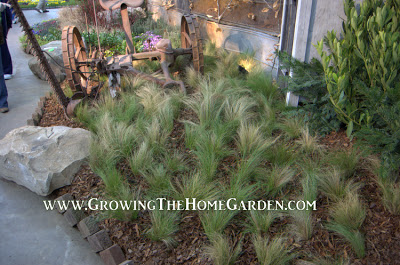 This week is the Nashville Lawn and Garden Show! For those of us here in TN this is a great opportunity to go out and take care of that gardening fix after a long cold winter. There are always some interesting ideas to be found in the displays so make sure you bring a camera! Here are some photos from last year's Nashville Lawn and Garden Show.
Here are the details for this year:
"Wine & Roses"
Thursday, February 27- Sunday, March 2
Show opens at 10 a.m. daily
at the Tennessee State Fairgrounds
Featured Speaker: Elizabeth Murray
Gardener and official photographer of Monet's gardens
Her 25 years of work to help restore and photograph the gardens of legendary artist Claude Monet in Giverny, France led to her first book Monet's Passion: Ideas, Inspiration, and Insights from the Painter's Gardens. Her new book Living Life in Full Bloom is the basis for her Sunday lecture on deepening your relationship with nature and creativity.
Additional Topics & Speakers include:
Roses 101, presented by Ron Daniels
Roses R Herbs, presented by Cindy Shapton
Facination for Fresh Flowers, presented by Kathy Bates and friends
Companion Plants for Roses, presented by Justin Stetlerate Fairgrounds
$1 Off Admission: Discount Coupons Available
at participating Middle Tennessee branches of Regions Bank
Coupon may be used toward Adult, Senior, or 4-day pass admissions
Coupon is not valid for child admission or online purchase
presented by Regions
Ticket Prices:
$10 adult | $9 Senior 65 & older | $1 Child 12 & under | $15 4-day Show Pass
Discounts available for groups of 15 or more when purchased in a block at the box office
Show Times:
10 a.m. – 8 p.m. Thursday through Saturday;
10 a.m. – 5 p.m. Sunday
Special Events for 2014:
Better Beer Garden: Thursday, February 27, 2 p.m. until 8 p.m. $25
(includes admission to the Nashville Lawn & Garden Show and special beer garden area)
Wine Festival: Friday, February 28 and Saturday, March 1, noon until 7 p.m. $22
(includes admission to the Nashville Lawn & Garden Show & special wine festival area)
**Reminder: The Tennessee State Fairgrounds charges a $5 parking fee. Free shuttle service is provided from parking lots to the front door. Parking fee is waived for those with handicapped tags or placards.