As part of the Saturday6 team of bloggers I have the pleasure of getting to test and keep some very cool products. Last year if you recall I tested the RZT (0-Turn mower) which has greatly diminished my mowing time and a 4-cycle trimmer with cultivator attachments. I'm still enjoying both of those products in the garden. This year I selected the Troy-Bilt CS4325 Chipper/Shredder to test in my garden. I had a big Bradford pear tree that I took down and needed a powerful tool to take care of all the branch debris.
The CS4325 Chipper is capable of chipping branches up to 3 inches in size. It has a powerful engine that easily started on the second pull. It's loud by necessity as it takes power to chip these branches into fine little bits of mulch. Ear protection is a necessity. Being able to hear is nice isn't it? Eye protection too as debris can and will fly through the air. I can't tell you how many times when just messing with branches in the garden I've nearly poked my eyes out. That is why I've taken to wearing some sunglasses/safety glasses whenever I do pruning or branch work.
It's also a great idea to wear gloves while using the chipper and/or working with branches. When prepping for using the chipper trim your branches as much as possible. You will want to remove any curves or branching sections. I found that if I did not trim the branches back far enough I would get the branch stuck in the feeder. That was easy to take care of since the feeder shaft was removable. Long straight branches work best in the chipper.
The chipper shaft is long enough that I can't reach the blades when I put my arm in which makes me feel comfortable using it. Who wants to lose a finger or arm doing yard work? Nobody! The shredder works nice and easy as well. Just dump smaller yard waste into the large hopper on top and watch the compost come out the side.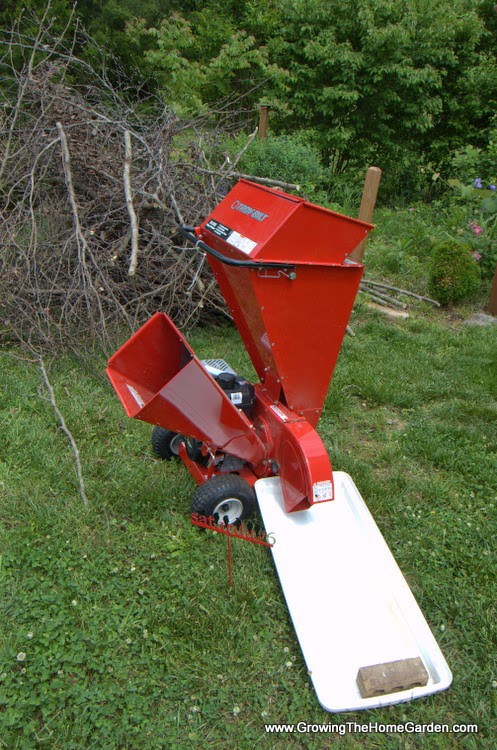 I've used the chopper twice since it came. The first time I noticed the powerful engine blew a hole in the ground where the wood chips come out. The second time I put a plastic container lid underneath that area to prevent damage to the lawn. It comes with a bag so you can gather the chips for easy collection which I recommend using the chipper bag as it is much easier to collect the wood chips in a bag then dump them as you go rather than make a huge pile of woodchips, rake, collect, and then dump them. The bag lets you skip the raking and collecting part. I didn't attach the bag and wish I had – hindsight is 20/20!
I really liked the quality of wood chip that came out of the chipper. The chips were small, fine, and while it did leave smaller twigs unchipped the bulk of what came out they weren't big enough to worry about. You can use the woodchips for a mulch, for pathways, or even for compost. After my chipping experience I ended up with 6 large nursery pots full of woodchips which I used to mulch some outlying garden areas.
You need space to store it as it is quite large. If your garden is large or you live in a place with a lot of trees that drop branches this chipper will help you out. It also works great if you want to remove a Bradford pear tree and well, who wouldn't want to do that? 😉
You can see how well it works in this video I put together: