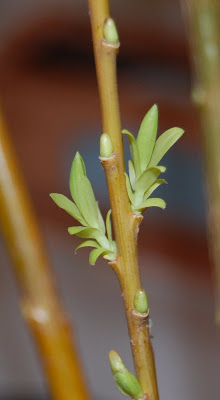 In the world of plants there are few that are easier to root than a willow. Whether you have a weeping willow, contorted willow, or dappled willow they all root very easily. Here's how I rooted a willow tree in water!
Rooting a Willow Tree
To root a willow in most cases all you need to do is stick a branch in the ground, keep it watered and it will grow! In fact I just did that with several green weeping willow cuttings a couple weeks ago and they are leafing out perfectly.
Taking Cuttings of Japanese Dappled Willow
Recently I took a few cuttings from a Japanese Dappled Willow (Salix integra) to root. I made about six cuttings of varying thickness about 8-12 inches long. I didn't stick them in soil as I mentioned earlier but put them in a small opaque vase filled with water. A week later nearly all the cuttings have rooted. A week later, that's it!
Why Do Willows Root So Easily?
Willows are extremely easy to root due to their high level of auxins. Auxins are a growth hormone that triggers growth in plants. Synthetic rooting hormone powders and gels are often used to help plants root but if you want a natural method the water leftover from your willow cuttings can be used to help other plants too.
What am I using my Dappled Willows for?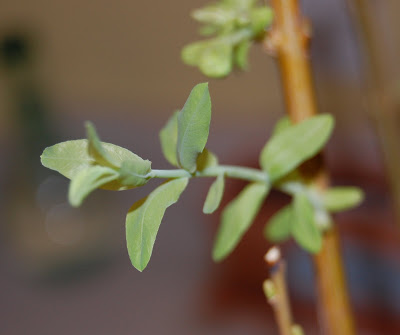 I'm using the Japanese dappled willows to create a border along one edge of our property. Now all that I need to do is plant them in the yard to replace some of the willows that didn't make it through the summer. Dappled willows make a great deciduous hedge but you can also use them as a specimen tree or even prune them as a standard.
You can root most willows in water including dappled willow, weeping willow, black willow, contorted willow, pussy willow, and others.
Rooting A Dappled Willow in Water
Take cuttings 6 to 10 inches in length. The key is to select first year growth that isn't small and spindly.
Place in a container of water in a location with moderate light. I used an opaque vase for this and the lack of light in the area of rooting helped simulate the soil area and helps to improve rooting.
Watch for small roots to form which should happen in about 7 days.
When roots form (at first the roots will look like tiny little white spots along the stem) pot them individually and keep the soil moist for the plant to develop.
Video Update on my Dappled Willow Cuttings!
As of 2020 my willows were HUGE. Up to 12 feet tall and 10 to 12 feet wide. In fact they are so large that it became time to cut them back. A nearby birch tree was actually shading out a a couple of the willows can they died due to lack of light. The pruning video is below.
(Amazon Aff.) The Loppers I used in the video were from Fiskars and were the PowerGear 2. They were fantastic to use and really helped me take care of the oversized willow branches. Here is a link to the Fiskars Loppers on Amazon.