Last year I spotted a little plant coming up in one of my garden beds. I left it alone to grow as I had a suspicion about what it wasn't but still couldn't quite remember what seeds I planted in that location. This spring has brought me confirmation – it must be a magnolia! A year ago last fall I tried an experiment. I took the seeds from a magnolia cone and separated them. Then I planted them outdoors in a garden bed just off our deck. I didn't give them any extra care and I only planted 8 magnolia seeds. The little magnolia began growing last spring and I left it sitting in it's temporary home to grow a little larger. At the time the leaves looked very much like that of a cherry laurel which I also planted nearby as seeds – or so I thought (I really can't remember if I did for sure). Yesterday after an inspection I'm positive that it's a baby magnolia. The size of the leaves matches a magnolia and the underside veining looks very much like a magnolia even if the leaf still hasn't fully developed its characteristic waxy coating.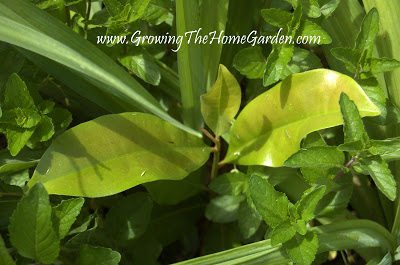 Magnolia Seedling that needs saved from mint.
It isn't one of the deciduous magnolias because I remember where I got it – the box store parking lot! I was waiting in the car for my wife while she shopped and saw the magnolia seeds just sitting there on the ground in front of us. I picked up the seed treated it, planted it, and now we have our own southern magnolia (Magnolia grandiflora). Now here's what baffles me – why would you plant a Southern Magnolia in the parking lot of a store? Magnolias get huge. We're talking 30-40 feet around and up to 90 feet tall. Theoretically it could be a smaller version like 'Little Gem' but one source I read said that 'Little Gem' was sterile (In my magnolia seed starting post I mentioned that it was a 'Little Gem' but I think now I'm mistaken). There may be some other varieties that are smaller in size yet capable of producing seeds but I won't claim to be a magnolia expert. Do you have any suggestions on what variety it could be?