For this post I really don't need any words, the pictures will explain why you should plant echinacea (coneflowers) in your landscape. But since this is a blog I have to tell you why I like echinacea in the garden and where I've planted it!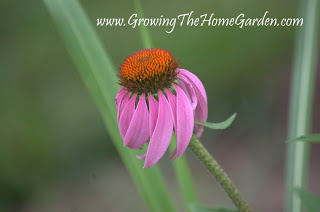 Echincea is one of the easiest plants I've found to grow. Once it's established there is very little care needed. It seems to like a well drained location and tolerates drought conditions very well. The range of hybrids that are available are nothing short of amazing. I'm not a fan of the mutant versions (the double deckers) but one of these days a pairing of 'Tomato Soup' and 'Mac and Cheese' will find its way to my garden. Until then the garden is filled with other more common coneflowers but that doesn't mean any less significant.
The hybrid coneflower I do have is 'Sunset' (z. 4-9) which is in our birdbath garden. It was bought as one of two 'Sunset' coneflowers at the time but one faded from view and was lost forever in foliage. Many of the coneflowers in the BigSky series of hybrids are crosses between Echinacea purpurea and Echinacea paradoxa.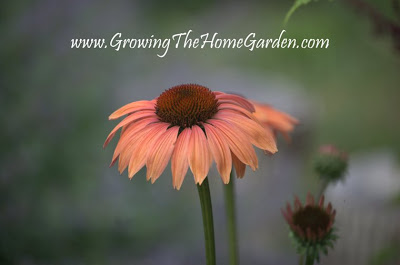 Speaking of Echinacea paradoxa (z. 5-8)… It's a yellow coneflower that we also have in the birdbath garden. It's native to the Ozarks but this one came to me via plant swap. I also bought some seed to plant more of Echinacea paradoxa but never got the seedlings in the garden. My thought was to allow the Echinacea purpurea to cross with the Echinacea paradoxa naturally and see what pops up!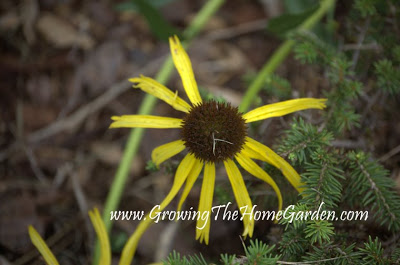 Here's another view of the Echincea 'Sunset'.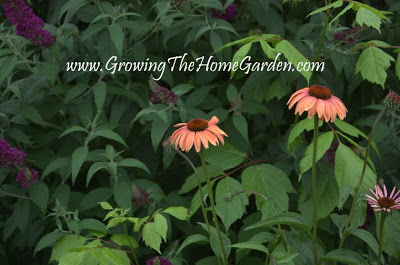 We have plenty of Echinacea purpurea around the gardens. The self-sowing garden, the rain garden, and the birdbath garden all contain a little E. purpurea. It can be a prolific self-sowing perennial. In the rain garden there are dozens of seedlings sprouting up all over. They need thinned and moved to other locations. Here is purple coneflower in the birdbath garden in front of a backdrop of 'Powis Castle' artemisia.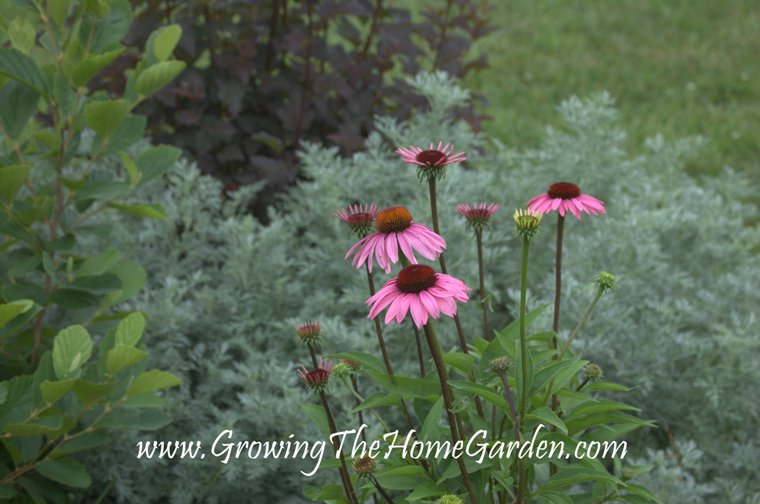 The purple coneflowers make great companions for so many plants it's hard to list them all. I have them with zinnias (at least I did last year), salvias, asclepias, artemisia, and the list goes on.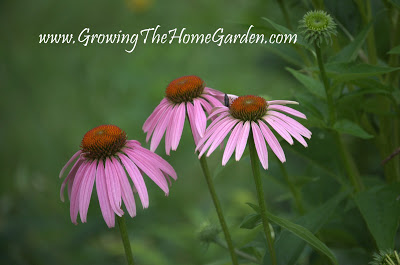 Coneflowers (Echinacea) propagation:
Seeds: Easy by seed with cold stratification. I drop the seed where I want it to grow in the fall and by spring seedlings are reliably coming up. How to Save Seed from Echinacea
Cuttings: Basal stem cuttings have worked for me in the spring.
Division: Dividing the clumps works too! I would reserve dividing coneflowers for spring as new growth is just beginning to appear. There's less of a chance of shocking the plant during this time and you can usually count on more rain present in the forecast to water the newly divided perennial.
Coneflowers Not Pictured: Echinacea 'White Swan' (Not Blooming Yet) and Echinacea tennesseensis (Tennessee coneflower still seedlings).
The Major Issue With Echinacea – Aster Yellows
This disease is the single most issue I have with echinacea. It really can only be overcome by removing the plant that is infected to help prevent its spread. You can read the post on Aster Yellows or watch this video to learn more: