Several weeks ago I planted Baptisia australis seeds. It's also known as false indigo. It took some time but with bottom heat from my seedling heat mat and continued patience several of the seedlings have sprouted. It's always exciting to see new plants come alive from seed. It took the Baptisia seeds about a month to germinate. Please note one important word that all gardeners (especially myself) need to learn about: patience!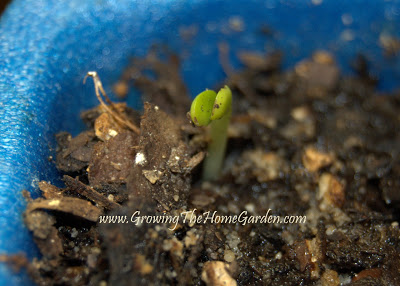 To review the seed starting process briefly I began by soaking the seeds then I planted them with bottom heat. Some seeds need scarification or some other pretreatment before they will germinate. Essentially the gardener has to mimic the natural growing conditions of the seeds in order to get the seed to sprout.
These won't be the first baptisia plants in my garden but they are the first I've grown from seed.
In other seed starting news my habenero and cayenne peppers have both begun germinating. Watching pepper seeds sprout can be frustrating since they are slow to germinate. The heat mat has proved very beneficial! I've already moved about 8 heuchera plants from the heat mat to an outside holding box (a clear plastic container) to grow on and adapt to the outdoor weather. I hope to gather hosta seeds this summer (if the deer allow the flowers to bloom) and get some hostas started next winter.
What seeds have you started?
For more on seed sowing please visit the posts found here: Seed Sowing 101.