The number one thing people think of when the fall season comes is the leaves. Thoughts of harvests, festivals, and cooler weather come too but when the fall season comes to mind its the leaves that get the attention. Everybody loves the leaves! Here's why: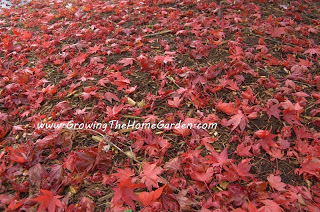 5 Reasons to Love Your Leaves
The colors. Mother nature gives us a spectacular color display every year. As the days grow shorter the leaves begin to change color to bright oranges, yellows, and reds with all kinds of variations in between. Leaves emerge with bright and fresh colors in the spring, become mature, then burst open with color in the fall like a painting.
Leaves make great compost! Leaves are perfect for the compost bin. If you have ever hiked in a heavily wooded area and admired the dark loamy soil you have observed the benefit of leaves. Take advantage of that potential leaf mold and toss your leaves into the compost bin to decompose over the winter. Mix in your kitchen scraps and in the spring you'll have one of the best soil additives around – compost!

Leaves are an excellent mulch. I like to shred mine with a bagger mower then place the shredded leaves over garden beds. They break down and feed the soil while preventing cool season weed seeds from germinating over the winter.

Leaves can make really neat art. Find a thick book or a leaf press kit and let the leaves flatten and dry. Once flattened you can place them in a frame on the wall. Another option is to do leaf rubbings. A leaf rubbing is a neat project to do with young children and they can see the leaf patterns transfer to the paper.
If you don't want to try any of the ideas above, just mow your leaves into the lawn! Mowing them helps the leaves break down faster which prevents them from smothering your grass. Larger leaves like sycamore or oak are thick and tough which makes mowing them or raking them essential!




One bonus reason to love your leaves – They give you a great workout when you rake them!
What do you like to do with your leaves?