To say I'm a fan of heucheras is an understatement. I like to think of myself as a collector of coral bells, as they are often called, even though my collection is still just a work in progress. I'm gradually adding different varieties to my garden but seem to be running out of room in the
corner shade garden
(
corner shade garden in 2008
). Thankfully I'll be able to use some areas in the backyard near the
greenhouse
once it's complete to add more of one of my favorite foliage perennials. I've grown some heucheras from seed and others I've collected from nurseries but they all retain interesting foliage throughout winter and that is definitely welcome in December!
Why I like Heucheras:

Low maintenance
Many can handle dry shade
Can handle some sun and humidity
Deer and rabbit resistant
Usually pest free!
Year round color
So here are a few of my heucheras!
Heuchera ~ Unknown maybe 'Palace Purple':
If forgot exactly who this little heuchera is but I suspect it's just a 'Palace Purple' I divided in the spring. It's in the raised bed just off of my back deck. The purple shades fit with other 'Palace Purple' Heucheras we have.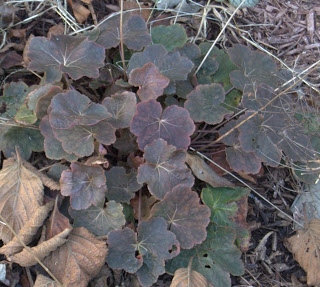 Heuchera 'Palace Purple'
This one is definitely 'Palace Purple'. It's ratty appearance is due to an outbreak of bagworms that have infested the conifer above the corner shade garden. They tasted the heuchera and must have thought it was lacking in flavor otherwise there would be much more of it gone.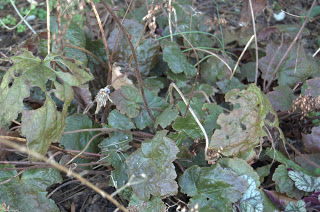 Heuchera 'Silver Scrolls'
I mentioned back in spring that this 'Silver Scrolls' Heuchera was one of my must have plants for 2009. I'm happy to say I found one at a nearby nursery. I love the frosty white variegation on the leaves.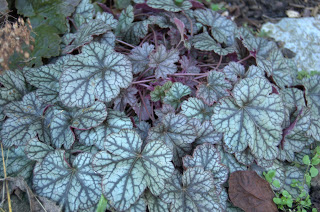 Heuchera 'Dale's Strain'
This little heuchera is another fun one to watch. It's color changes to a more brown-bronze look in the fall but displays green and white variegated leaves throughout the growing season.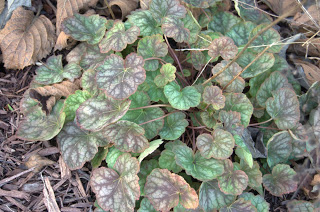 Heuchera 'Mystic Angel'
'Mystic Angel' was found at a nearby spring festival. It reminded me of 'Silver Scrolls' before I bought it. The white-silver colors stand out more in 'Silver Scrolls' but both plants are very attractive.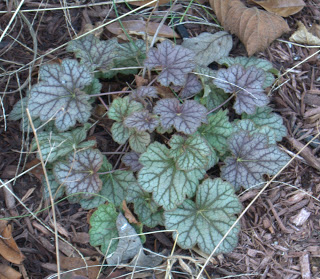 Heucherella 'Stoplight'
While not quite a heuchera this 'Stoplight' Heucherella fits in nicely with the heucheras. It's a hybrid of tiarella
(foam flower) and a heuchera. The red vein variegation is it's most prominent feature.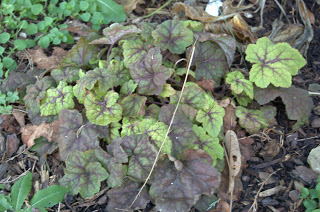 Not featured in this post: Heuchera 'Mocha', Heuchera 'Melting Fire', Heuchera 'Fireworks'
How to propagate heucheras:
The best way to propagate heucheras in the home garden is to divide them in the spring. Just separate the newer/younger crowns and remove the parts that have died back to replenish the plant. Heucheras can also be divided in the fall but I generally do most divisions just when my plants begin actively growing.
I have managed to root a heuchera from a basal leaf cutting but you must have a piece of the root crown attached to stimulate leaf growth.
Heuchera 'Palace Purple' comes true from seed but you may get some interesting heucheras by collecting open pollinated seeds from other varieties. Then again you may not but it's fun to try! I store my seed in a cool and dry place so that I can begin starting heuchera seed indoors in January.
I found this book on Amazon that I think I will have to add to my bookself soon. It's written by Dan Hiems, a master cultivator of heucheras and heucherellas. He's responsible for many of the neat varieties of heucheras that we enjoy in our gardens!